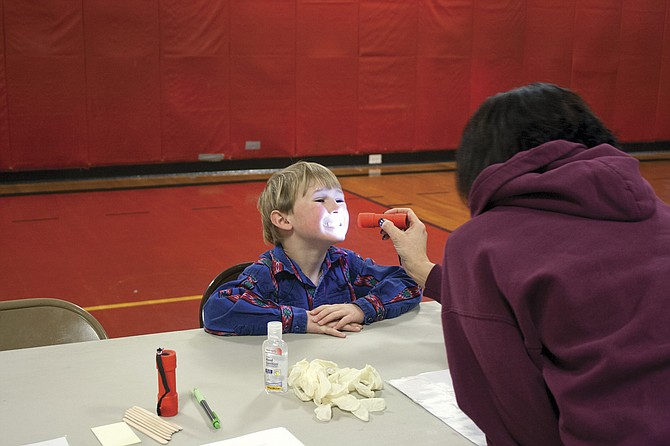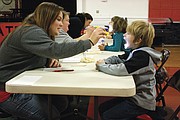 PERRYDALE — The whole process took only a few minutes, but the dental screenings that took place at Perrydale School on Thursday afternoon are something some families simply can't afford.
In some cases, they don't have dental insurance or fall among the ranks of the "underinsured." Serving children and community members who fall into those categories was what drove Perrydale School Board member Trina Comerford to organize a dental screening at the school.
She said the issue emerged for her earlier this school year, when she was helping out on a student senior project to deliver wood to senior citizens who couldn't afford to heat their homes.
"There is a gentleman in our county who had a toothache, and when we were delivering the wood he was pulling his tooth out — I mean, with a pair of pliers," she recalled. "He couldn't afford to buy his wood, so obviously he couldn't afford to get his tooth fixed."
After seeing that, she decided it was time to start working on bringing the dental van to Perrydale.
"I've been wanting to have a dental van in Perrydale for years," she said of her thought after that delivery. "I might as well get busy now."
Comerford has experience with school-based dental screenings, having worked in the Dallas School District for years, but her first thought was to provide screenings for Perrydale-area residents. She was especially concerned for senior citizens — like the man who resorted to doing his own tooth extraction — whose coverage through Medicaid or Medicare is often minimal and who struggle to find dentists.
That original goal soon evolved into screening all K-8 students at Perrydale School.
"If their teeth aren't healthy or if their parents are having trouble affording their dental costs, it can have a direct impact on their education," she said.
Comerford said the exams provide another benefit: "Through the screenings, you are able to identify the people who are underinsured or don't have insurance and then help them find resources."
She said those without insurance or adequate coverage could explore options on the Oregon Health Plan or coverage through the Affordable Care Act.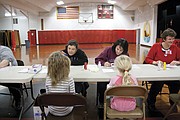 Comerford contacted Portland-based Medical Teams International and was sent a packet of information on how to organize a screening. She then recruited a local dentist, Matthew Woolsey from Dallas, to provide donated dental work for referred students and community members on Friday. She collected donations to pay for the van, and the Perrydale Service Integration Team — a partnership between Polk County, the school district and local agencies who coordinate to provide resources to families and individuals in need —stepped in to pay for the remainder.
Thursday, a group of volunteers performed the screenings and made referrals when necessary.
The screenings were very basic — volunteers just shined a flashlight in the mouths of each child — and later in the day, those community members who showed up — and asked them a few questions about their brushing habits.
"Do you brush your teeth every day?" Comerford asked each of the students she screened.
Depending on the answer, she gave them a "Good job!" or "You really should brush every day."
For the most part, the kids passed the checkups, but even finding the handful of children who did need dental work helps.
"I've always been of the belief that if students have medical or dental issues, it's going to disrupt the education process, so whenever you can fulfill a need, it's a great opportunity," said Perrydale Superintendent Eric Milburn.
Milburn credited Comerford's hard work with bringing the dental van to Perrydale.
"She did a great job of providing this," he said.
Thursday, only about a dozen community members attended the screening, but Friday's dental van will be booked with 10 to 12 patients, students and community members. During the hours open to the public, Cover Oregon and Polk County Family and Community Outreach representatives, as well as retired Dallas School District employees were on hand to assist people with finding resources.
Comerford said she would like to organize at least one screening and dental van each year and hopes this initial screening will help get the word out.
"There are people who live on the outskirts of the city limits who have trouble just even getting screened or knowing that some of those services are available," she said.