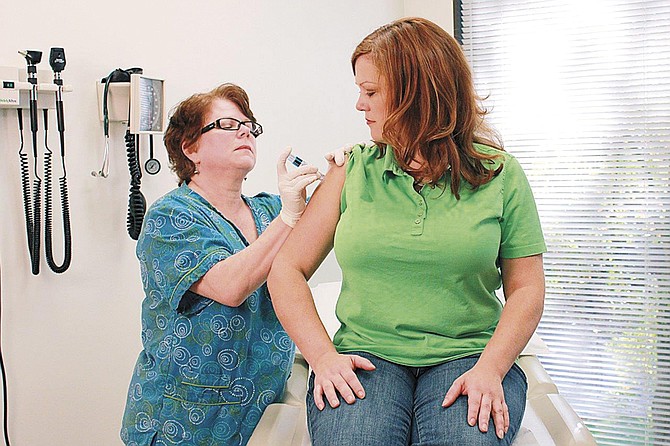 DALLAS — Polk County and Oregon as a whole have been relatively lucky so far, largely avoiding the brunt of flu season that has run rampant in other regions of the country.
But local health officials warn that we are not out of the woods just yet as flu season is far from over.
"We really are at some of the lowest numbers in the country," said Kirk Hillebrand, Polk County's communicable disease nurse. "It's trending like much of the rest of the country, but our numbers are so much lower."
Oregon Health Authority's weekly flu activity report, "Flu Bites," published Friday classifies the state's "influenza-like illness" level at minimal for the week ending Jan. 3.
The geographic spread of the activity was upgraded from "regional" to "widespread" from the week before.

Hillebrand said the number of people showing flu-like symptoms -- fever of 100 degrees or higher, cough or sore throat -- began increasing around Christmas. If that trend holds and patterns follow previous years, Oregon may to catch up to states with a high level of cases.
"If the rest of the country is (trending high), we probably will get there too, but that remains to be seen," he said.
So far this season, 10 cases of the flu were identified at West Valley Hospital in Dallas and more than 100 cases were reported in the West Salem area. Increased flu activity prompted West Valley's parent company, Salem Health, to limit visitation to West Valley and Salem Hospital to protect patients, starting Jan. 2.
With the risk of contracting the virus still very possible, Hillebrand recommends precautions.
"The biggest message is for people to continue to do all those things we like to see them do to prevent the spread of the flu," he said.
That includes covering coughs and sneezes, proper hand washing, and avoiding those who are ill. Staying home from work or school, if possible, is recommended if you are experiencing flu symptoms. Even those who don't feel seriously ill should take precautions around people who may be more at risk.
"The flu is sort of a hitchhiker," Hillebrand said. "They can still spread the virus to others."
Due to the late emergence of flu strain H3N2 – the virus causing much of the trouble – flu vaccines may not be as effective. Hillebrand still recommends getting vaccinated, especially for young children, those older than 65, and those with compromised immune systems.
Hillebrand did note people testing positive for the virus aren't just the very young or older people, but range across all ages.
He added, if people see a doctor soon enough (typically within 24 hours of the onset of symptoms), antiviral medication can be prescribed to treat the flu.
YOU CAN HELP Prevent the spread of flu:
• Cover your nose and mouth with a tissue or arm when coughing or sneezing.
• Wash your hands with soap and warm water, especially after you cough or sneeze.
• Avoid touching eyes, nose or mouth, and avoid close contact with sick people.
• Stay home if you become sick.
• Clean work and household surfaces often.
• Wear a mask if you have a weakened immune system.
• Ask friends and family to get their flu shot.
• Get plenty of sleep, eat well, and exercise.
Source: Polk County Public Health
For more information about flu vaccinations, contact your doctor or Polk County Public Health Department: 503-623-8175.