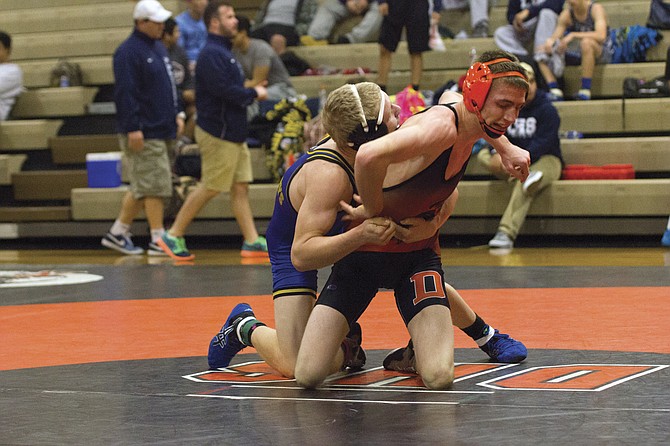 DALLAS — Some new faces broke through for the Dallas wrestling team on Saturday during the Dragons' lone home tournament of the season.
Freshmen Noah Sickles (113 pounds) and Treve Earhart (152) placed first at the Brunner Invitational.
"It was a big weekend for our two emerging freshmen," Dallas coach Tony Olliff said. "They both had big wins in the finals of the Brunner Invitational."
Matt Hofenbredl (138) also placed first, while Ryan Bibler (106), Nolan Miller (120), Jeff Dunagan (160) and Tyson Janssen (170) finished second.
"It was nice to have (Matt) Hofenbredl back in the lineup," Olliff said. "We are always a better team when he wrestles."
The Dragons began the week by winning three Mid-Willamette Conference dual meets to start the league season on Friday. The Dragons defeated Lebanon 57-15, Central 54-25 and Corvallis 66-15.
"I was really impressed with Central's upper weights, winning the last five straight against us," Olliff said. "I thought our boys did a real good job getting pins where they could. Those six-point wins really add up."
Dallas hosts Woodburn Wednesday (today) at 6 p.m. for another league dual meet. The Dragons then travel to Portland to take part in the Parkrose Tournament on Saturday.
CENTRAL SWEEPS HOME DUALS: The Central wrestling team went 3-0 at the Central Four-way on Saturday. The Panthers defeated Amity 66-12, Banks 51-15 and Siuslaw 57-16. Christopher Chavez (132 pounds), Collin Swinehart (145), Gabriel Arreguin (160), Tanner Swinehart (170), David Negrete (182), Riley Olson (195) and Marlon Tuipulotu (285) went undefeated during the dual matches. Central opened its week going 1-2 during three Mid-Willamette Conference dual meets Friday at Dallas. The Panthers defeated Corvallis 41-30 and lost to Dallas 54-25 and Lebanon 44-24. Central travels to South Albany Wednesday (today) for another league dual meet at 7 p.m.