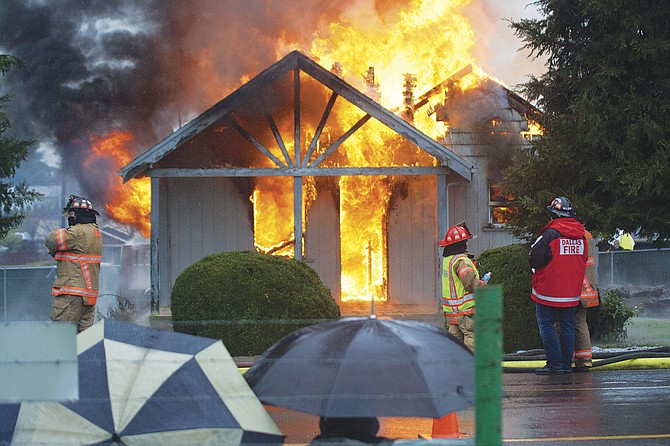 DALLAS — All the commotion on Orchard Drive in Dallas Saturday wasn't what it appeared.
The house going up in flames wasn't a traumatic event for a local family, but the best training firefighters can go through when preparing for the real thing.
Firefighters call it "burn to learn," when a house or structure is donated to use for live fire training.
Saturday, the Dallas and Southwest Polk fire departments sent five crews through one or two fire scenarios under conditions that closely mimic what they would see if called out to a real blaze.
"They feel the heat, experience the smoke and limited visibility, and actual fire," said Sean Hoxie, Dallas Fire Department's training officer.
For four firefighters, the "live fire" experience was the last hurdle before they were cleared to fight structure fires.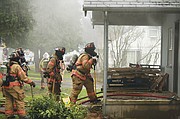 April Welsh, Dallas' community service officer, was one of those four.
Welsh was in the house when the first fire was set. She said the experience was much more intense than any other training, and she had to overcome her natural instinct to move as far away as possible. On her second scenario, she was in charge of the hose and had to go right at the fire.
"Then, when I got to go back in and fight the fire, it was a completely different experience," she said. "Initially, you don't want to go toward it. You want to go the other way, so it was good."
When asked how it felt to know she could join the fight on the next fire, Welsh said: "I don't even know. I don't even know what to say.
I'm overwhelmed. It's a feeling beyond any other."
Dallas Fire Chief Fred Hertel said now that Dallas no longer has its own training facility, Saturday's burn to learn is all the more important for new firefighters like Welsh and veterans alike.
"Every house is unique, so every house presents its own challenges," Hertel said. "This is the only way we can get those challenges on a semi-consistent basis."
Hoxie said he was grateful for the donation and for residents putting up with minor traffic delays and smoke so crews could have the valuable training.
After running several exercises, firefighters lit one last fire and let the house burn, monitored closely. The fiery spectacle drew a small crowd, huddled under umbrellas and rain coats in the persistent downpour Saturday afternoon.
"We have an awesome, great group of volunteers and we are always looking for more," Hertel said. "And if anybody wants to volunteer, they get to come and have exciting days like this."
To volunteer or donate a structure for training, call 503-831-3530.