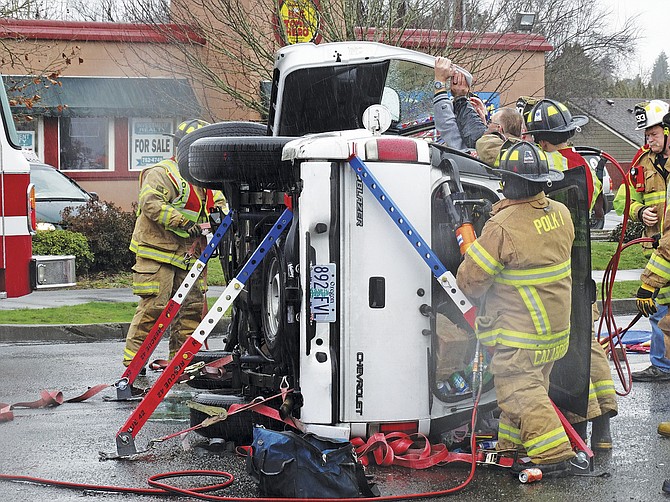 MONMOUTH — A Chevy Blazer overturned on Highway 99W at Powell Street in Monmouth on Saturday when its driver, Moira Bronson, ran the stop sign at Powell.
The accident closed Highway 99W at about 12:20 p.m. for about an hour.
"It sounds a lot worse than it was, thank goodness," said Sgt. Kim Dorn of Monmouth Police Department.
Bronson, 41, of Dallas was traveling eastbound on Powell and did not stop at the stop sign. Connie Dowdy, 50, of Eugene was traveling north on Highway 99W in a Chevy Impala and collided with the Blazer, causing it to roll onto its side.
Polk County Fire District No. 1 responded to extricate the drivers from both vehicles, as well as the passenger in the Chevy Blazer, Jennifer Green, 41, of Dallas. The roof of the Blazer had to be cut off to access Green and Bronson.
Dallas Fire Department assisted with an ambulance.
"You don't see that in the city with no speed involved," said Polk Fire Sgt. Mike Rusher.
The speed limit at that intersection is 30 mph on Highway 99W and 25 on Powell Street. Dorn said she isn't quite sure how a collision at those speeds would cause an SUV to roll onto its side, noting there was a lot of water on the road at the time.
Green and Bronson were transported to Salem Hospital with non-life-threatening injuries. Dowdy was transported to Good Samaritan Hospital in Corvallis, also with non-life-threatening injuries.
Bronson was cited for failure to obey a traffic control device.