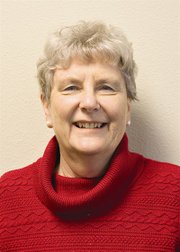 Sam Guida passed away early Thursday morning. They had come home from Oregon Health & Science University in Portland the week before with hospice services and support from family and friends.
Never losing his sense of humor, Sam called the time at home his "pre-wake," and loved, and was touched by, the visits, calls and emails by so many.
His wife, Judy, was so glad that they could honor his wishes of spending his last days at home enjoying companionship, love, humor and the home that he designed and built.
—
Shawn and Trina Brotherton, their 8-year-old daughter Kalina and 5-year-old son Kindan spent their vacation with friends Fred and Karen of Corvallis at their time share in Nuevo Vallarta, Mexico, north of Puerto Vallarta. They had the whole week from Jan. 9-16 to swim in the pool, lay and play on the beach, try amazing food at resort restaurants and — Trina's personal favorite — swim with the dolphins. Kalina liked the geckos.
—
As secretary of American Agri-Women (AAW), I attended an executive committee retreat with six other women from around the U.S. at the home of AAW president Sue McCrum Jan. 16-17. She and her husband Jay live on Penobscot Bay on the Atlantic Ocean near Belfast, Maine.
It sounds crazy to meet in Maine in January, but that was an experience I've never had — and I loved it. The weather was very cold (8 degrees one day and 17 degrees the other), but clear and beautiful, their home warm, the lobsters and mussels delicious, the women amazing, and the meetings productive.
Interesting observation: people in freezing Maine seemed to wear hats as often as Oregonians carry their umbrellas.
More like this story