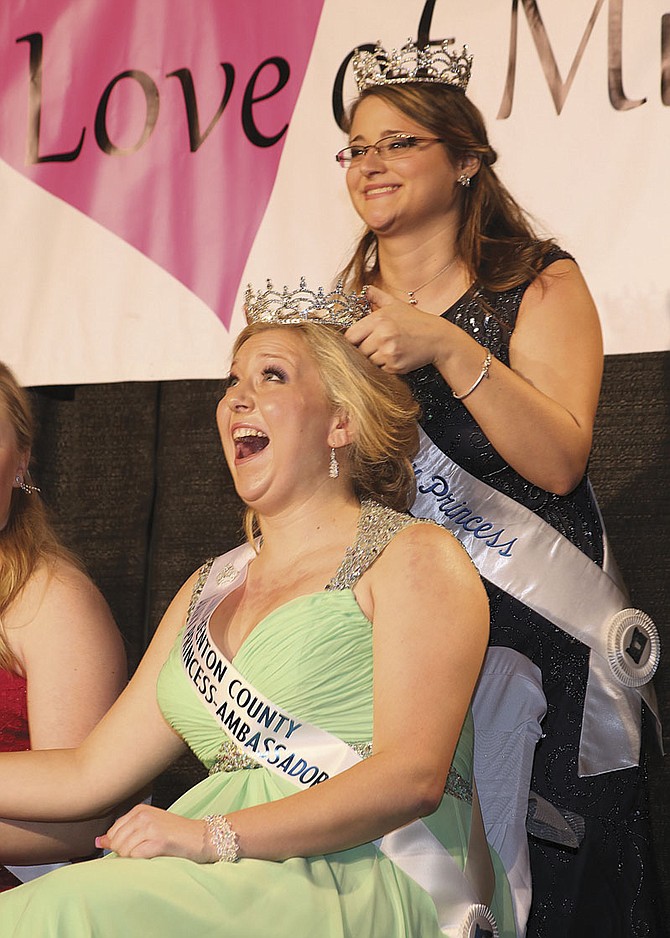 INDEPENDENCE — For Emma Miller, the newly crowned 2015 Oregon Dairy Princess-Ambassador, dairy farming was a happy mistake.
"I actually started with dairy cattle when my mom accidentally brought home a dairy cow instead of a beef cow," she recalled in a 2014 Itemizer-Observer interview. "It worked out though because I enjoyed every minute of it."
Miller, from Independence, will spend her fourth year as an ambassador for the dairy industry. She first served as the 2012 Polk County Oregon Dairy Princess-Ambassador, the first dairy princess the county had seen since 2004.
Miller was crowned as the 2015 Oregon Dairy Princess on Jan. 17 at the 56th annual coronation hosted by the Oregon Dairy Women at the Red Lion in Salem.
"This has been a very long journey," she said. "I guess you could say that I'm an experienced princess now."
In 2013, Miller served as the first alternate Oregon Dairy Princess and got to tour the state and coach future princesses.
"After I passed on my title, I felt like it wasn't done," she said.
Now as a student at Oregon State University, she was able to represent Linn-Benton counties as dairy princess.
"That was great, because there were a lot of events as a county princess," Miller said. "Last fall, I was able to visit about seven elementary schools in the Linn-Benton area."
She talked to school children about dairy cows and farms, from what the cow's favorite foods are to how farmers take care of cows — and of course, the nutritional benefits of milk and dairy products.
"It's important to teach young children how to be healthy," Miller said. "There's so many problems with health; it's important for children to be more aware of choosing fruits and vegetables over candy, and encouraging them to make healthy choices."
Miller, who is studying to be an agricultural teacher, enjoys teaching about the benefits of three servings of dairy a day. Raising dairy cattle herself, she has first-hand knowledge of the effort it takes to raise happy cows.
During high school — she is a 2012 graduate of Central High — Miller rose at 4 a.m. to milk her cows, then had to come home right after school to milk them again, and still have time for homework, evening activities and football games.
"I really just love sharing my passion for the dairy industry and ag with everyone I meet, whether at a classroom presentation or a fair," Miller said. "There are people who have never seen a cow get milked before. I love people's faces when they learn something new, which is one reason I want to be an ag teacher."
As 2015 Oregon Dairy Princess-Ambassador, Miller will travel to schools and events throughout the state promoting the dairy industry.
Upon being crowned, Miller received more than $3,000 in scholarships to continue her education. Outgoing Dairy Princess-Ambassador Danielle Bull received more than $14,000 for her year dedicated to the Oregon dairy industry, personally informing more than 15,000 students of the benefits of dairy products and life on a dairy farm in schools and community events.