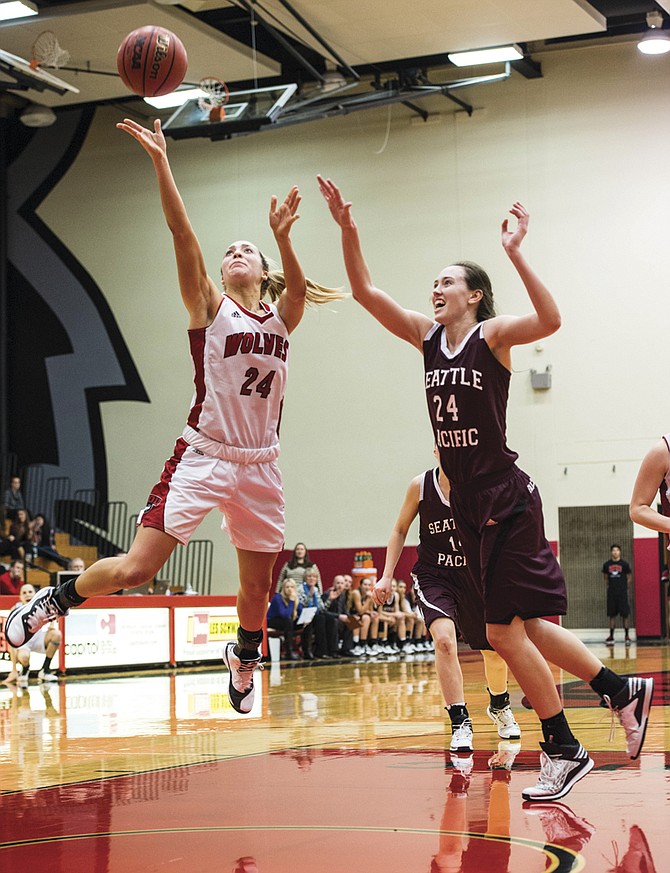 MONMOUTH — Western Oregon's women's basketball squad experienced triumph and heartbreak during a pair of home games last week.
Freshman Sami Osborne scored a team-high 16 points as the Wolves upset No. 8 Seattle Pacific 67-62. Katie Goddard added 11 points, including a 3-pointer that gave WOU a five-point lead with two minutes left in the game. Dana Goularte returned from an ankle injury to score 10 points, grab six rebounds and dish out six assists.
"From start to finish, we played like we were going to win the game," Western Oregon coach Holli Howard-Carpenter said. "We played with poise and toughness (the entire game)."
Playing in the ROOT Sports Great Northwest Athletic Conference Game of the Week on Saturday, the Wolves found themselves in a close battle with Montana State Billings. Jordan Mottershaw scored 18 points, but the Wolves (5-12 overall, 2-7 GNAC) fell 59-57.
The Yellow Jackets hit a layup at the buzzer to win.
"Credit to (Montana State) Billings, they played extremely hard to the very end," Howard-Carpenter said. "We really showed some heart and fought back from a 10-point deficit mid-way through the second half, but it was really Billings' run late in the first half that hurt us."
Western Oregon hits the road to face Saint Martin's on Saturday.
MEN'S BASKETBALL REACHES MILESTONE: Western Oregon's men's basketball team had an offensive explosion, but it was its defense that starred last week. The Wolves held Simon Fraser to 41.7 points below its season average during a 114-75 win on Thursday. Jordan Wiley scored a career-high 26, while Andy Avgi (23 points) and Marwan Sarhan (20 points) also reached the 20-point mark. The Wolves also earned a 90-87 win over Western Washington on Saturday. Junior Julian Nichols hit one of two free throws with 1.4 seconds remaining and Avgi grabbed the rebound to preserve the win. Avgi scored 21 points, giving him more than 1,000 career points. WOU improved to 16-3 overall and 8-1 in Great Northwest Athletic Conference play to remain in first place, the team's best start since it joined the conference in 2001. WOU hosts Montana State Billings on Thursday and Seattle Pacific on Saturday. Tipoff is set for 7 p.m.