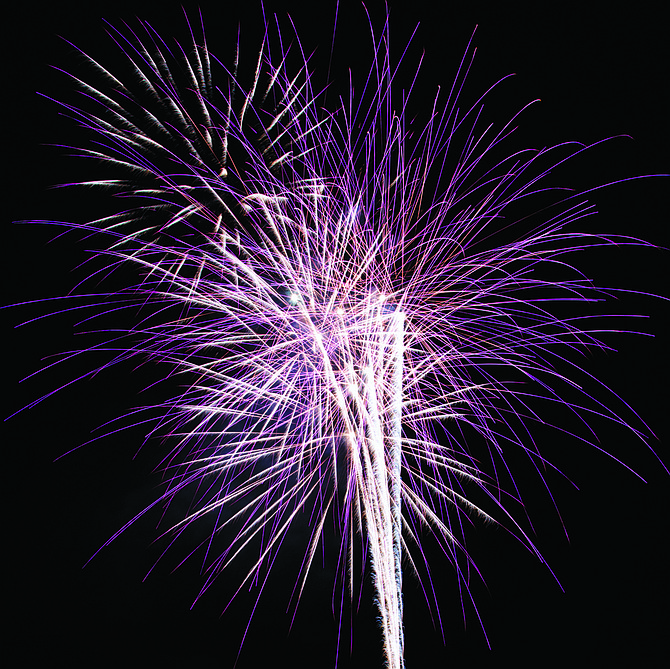 POLK COUNTY — This Fourth of July promises to be hotter than usual, and drier, with temperatures in the mid to high 90s.
It means a few extra precautions should be taken in addition to regular safety when it comes to staying hydrated and lighting fireworks.
During the festivities, it's important to remember the "safe and sane" rules of fireworks, and only use fireworks purchased from an authorized vendor, said Neal Olson, Polk County Fire District No. 1 division chief.
"It's really important that we follow those rules and guidelines," Olson said about the regulations put out by the Oregon State Fire Marshal's Office. "Especially this year with as dry as it is. It is much worse this year than it has been in the past."
Keep a fire hose or bucket of water handy in case shrubs or grass catches on fire, Olson said.
Even sparklers can cause damage if handled improperly.
"No sword fighting with them," Olson said. "Those sparklers burn at 2,000 degrees — that is hot. Even just the little sparks that fly off, they'll burn your skin. It's burning metal."
With the amazing fireworks displays throughout the county, Olson said it may not be worth the risk to light off additional fireworks this year.
Polk County Fire District No. 1 has increased staffing for the holiday weekend.
"We expect to be really busy," Olson said. "With a long run of heat leading up to the holiday, we expect an increase in our medical call volume as well. People are forgetting to hydrate and eat properly, and that causes the medical (calls) to go up, which also affects our availability for fire response."
When the temperatures climb, it is important to take care of yourself and your family, also.
The first thing to remember is to stay hydrated, said Don Rodenfels, a nurse at the emergency department at West Valley Hospital.
"Be sure they are drinking plenty of water," he said. "The best way to rehydrate is just plain water and sports drinks."
In fact, it doesn't hurt to start hydrating the day before you know you'll be in the heat, Rodenfels said.
Soda does not hydrate well, and alcohol dehydrates, making the heat worse.
While extreme heat should be avoided where possible, on the Fourth of July, people will pack the sidewalks and parks during the hottest part of the day to participate in and watch the barbecue competition in Dallas and the Fourth of July/Western Days celebrations in Monmouth and Independence.
Bring an umbrella with you or wear a wide-brimmed hat, Rodenfels said, to provide your own shade to protect you from the sun. Sunscreen also is important.
"The other thing people can do is use battery-operated fans," Rodenfels said. "Some of them are misters. Those actually work quite well."
The West Valley ER has seen a slight increase in heat-related patients, mostly infants, children and the elderly, he said.
"Check on the elderly," Rodenfels noted. "Elderly in general, whether it's hot or not, they need proper fluid intake. Generally older people, you have to get them to drink, because they just won't. It becomes more important during the hot weather."
If alcohol is in your party plans, make sure to make arrangements to get home safely.
Independence Police will have extra patrol shifts looking for people driving under the influence of intoxicants Friday through Monday.
"The ultimate goal in participating in these operations is to get impaired drivers off of our roadways, creating a safer environment for anyone and everyone using our roadways," said Officer David Oliveros.
A Safe Fourth is a Fun Fourth
Fireworks, even legal ones, can be dangerous, especially in this unusually dry and warm year.
Some tips from the Oregon State Fire Marshal's Office:
• Store fireworks out of children's reach. An adult should always light fireworks.
• Always read and follow directions on the label.
• Place pets indoors; they are easily frightened by fireworks.
• Always have water handy. Soak used fireworks thoroughly in a bucket of water.
• Never re-light "dud" fireworks.
Some tips from Salem Health: If you experience these symptoms, drink more water, find shade or call 911:
• Heat illness goes through three stages: heat cramps — like muscle cramps — exhaustion and then heat stroke.
• If you have heat cramps, find shade, use a cold compress and take fluids.
• With heat exhaustion, you will sweat excessively and look pale. Get in shade, use a cold compress, and drink fluids. Intravenous fluids may be required.
• If you are having heat stroke, you will be very pale and have a fever. You will not be able to sweat and you will be mentally confused. Call 911.
Overall, use common sense. Drink plenty of fluids and have a safe and happy Fourth of July.