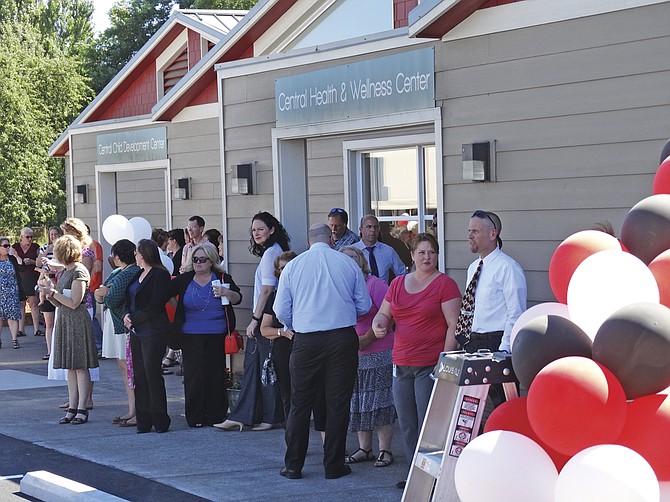 Dallas street resurfacing projects begin Monday
DALLAS — Road resurfacing projects on four Dallas streets kicked off Monday.
Project areas are: Levens Street from Washington Street to Southwest Academy Street; Uglow Avenue from Southeast Ash Street to Monmouth Cutoff; Monmouth Cutoff from Southeast Uglow to Southeast Holman Avenue; and North Kings Valley Highway from Orchard Drive to Northeast Dallas Drive.
Start and finish dates on the project may vary, but work on the four areas will occur between Monday and July 8.
For more information, call the Dallas Public Works Department at 503-831-3562.
The Boondocks to hold 'first Wednesday' art workshops
FALLS CITY — The Boondocks in Falls City, 318 N. Main St., will hold an acrylic painting workshop the first Wednesday of each month from 6 to 9 p.m. Wednesday's (today) workshop will be held outdoors on the patio — there will be plenty of shade available.

Admission is $30 and includes a 16 x 20 canvas, professional instruction, paint, supplies and a cocktail. No art experience is necessary.

For more information: 503-787-2700.
Ash Creek Arts Center receives grant from PC coalition
MONMOUTH/INDEPENDENCE — The Ash Creek Arts Center received a grant of $2,500 from the Polk County Cultural Coalition for its 2015 Art Cart Project.
The nonprofit's new art cart will help it maintain a variety of art supplies for use both indoor and outdoor art experiences, as well as a way to store those supplies for easy transport and use.
The grant will allow the center to pay teachers and assistants who present free art classes and workshops, and will allow more opportunities for community members to create and enjoy art events, such as those found in the Monmouth and Independence Fourth of July celebrations.
For more information on Ash Creek Arts Center: www.ashcreekarts.org.
United Way awards grants to Polk organizations
SALEM — The United Way of the Mid-Willamette Valley awarded Community Impact Grants to nine Polk County projects and programs:
Fostering Hope Initiative, Family Support Collaboration, Health and Dental Clinic, Pathways to Becoming a Health Care Professional, Peers Empowerment to Achieving Real Lasting Security, Summer Youth Program, Back to School Basics, Emergency Safety Shelter and Emergency Services to Homeless Families.
For more information: 503-363-1651, ext. 311, or visit www.unitedwaymwv.org.
Dallas police receive grant for vehicle, body cameras
DALLAS — Dallas police department was awarded two grants totaling nearly $32,000 to purchase new in-car and body cameras for officers.
The grant enabled the department to purchase the best technology available at a cost of $5,020 for each car camera and $937 for body cameras. Each of Dallas' patrol vehicles are outfitted with the new equipment and the department has been assigning body cameras to patrol officers.
"The Dallas Police Department was very fortunate in receiving the grant which allowed us to add this level of service," said Dallas Lt. Jerry Mott. "We would not have been able to undertake this project without the outside funding."
The Edward Byrne Memorial Justice Assistance Grant provided the larger grant, nearly $32,000 and a $1,000 grant was provided through the city's liability insurance carrier for body cameras. DPD submitted the grant application last July.