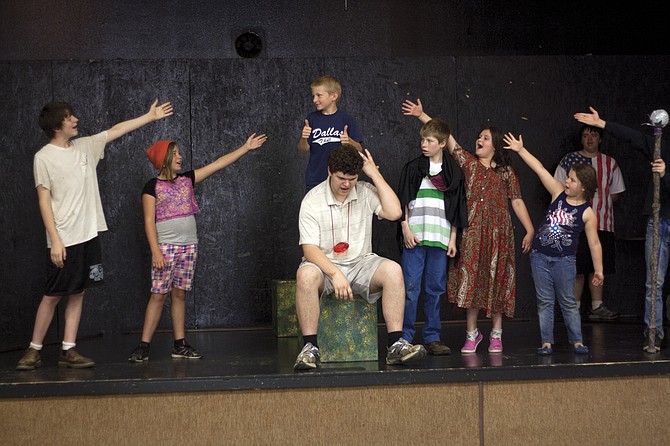 FALLS CITY — King Arthur has problems.
In his kingdom, he has a giant with insomnia, a dragon with a toothache and his castle is haunted by a forgetful ghost.
His subjects are looking to him for answers. Will he save the day?
Students in Falls City's FACES program worked all last week to give the story a happy ending, taking part in a Missoula Children's Theatre (MCT) drama camp.
The camp, led by two MCT drama coaches, staged the show, "King Arthur's Quest" in just five days — from auditions to performances.
"It's been hectic," said Hope Johnson, who plays King Arthur's wife, Guinevere, in the musical, during Thursdays rehearsal. "A show can always use more work, but I think we are doing pretty good."
MCT drama teachers Kiona Reese and Nicole Baker work as a team to get the cast and crew of the show ready for two performances on Friday night. They were impressed with the progress the students made in such a short time.
"They are doing really well," Reese said.
Baker noted that the cast was pretty much "off book," or working without a script, in just the second day of rehearsals.
"They are ready to be in front of the audience," Baker said. "They really are."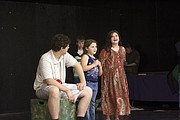 The musical takes the classic tale and puts a humorous spin on it — with "damsels in distress" always warning of danger and featuring a not-so-magical Merlin. But, in the end, the show demonstrates the power of working together to solve problems and that everyone can contribute.
That lesson matches well with MCT's mission: "Development of life skills in children through participation in the performing arts."
MCT, based in Missoula, Mont., has 43 teaching pairs on the road throughout the summer in all 50 states and in 15 countries offering weeklong drama camps. Reese and Baker will travel throughout Oregon and California over three months.
"It's really special to work with different groups of kids every single week and see that you are not only making a change in their week, in their day, but potentially in their lives," Reese said.
She said using theater to explore creativity is powerful and "you can bring that into other people's lives and show them they can create too."
Often, as is the case in Falls City, MCT provides one of few opportunities students have with performing arts, something Jonathon Creekmore, who plays Arthur, believes is something students should be able to experience.
"I like the ability to change who you are. You are able to jump into a new world. It's like reading a book, but you are that book," he said, describing what he likes about acting. "It builds character. They (students) learn structure, obedience … and work ethic."
Acting isn't the only opportunity the show provides. Two assistant directors are part of the crew for "King Arthur's Quest". They help with lighting and make sure actors make their cues and remember lines.
Amber Houghtaling, one of the assistant directors, said she occasionally has a case of stage fright, but likes working back stage. Watching the play unfold from behind the scenes is fun, she said, and something she may want to do again.
"Maybe, if it (her role) is the director, backstage," she said.
Like, Johnson, Amber believed the cast would be ready for Friday's performance on the Falls City High School stage.
Reese and Baker were excited for the kids to experience the sense of accomplishment during and after the show.
"Seeing the difference from Monday to Friday is a complete 180. It's so cool to see kids who maybe haven't gotten a big confidence booster in their life, (have) that happen on stage," Baker said. "They may never do a play again, but this is something they can hold onto and have that confidence in for the rest of their lives."
Reese said her favorite part of performance night is the brief moment after the bows when she and Baker step back and let the students absorb the audience's praise.
"We get to step away and let the kids feel that," she said. "And the looks on their faces, it's really incredible."