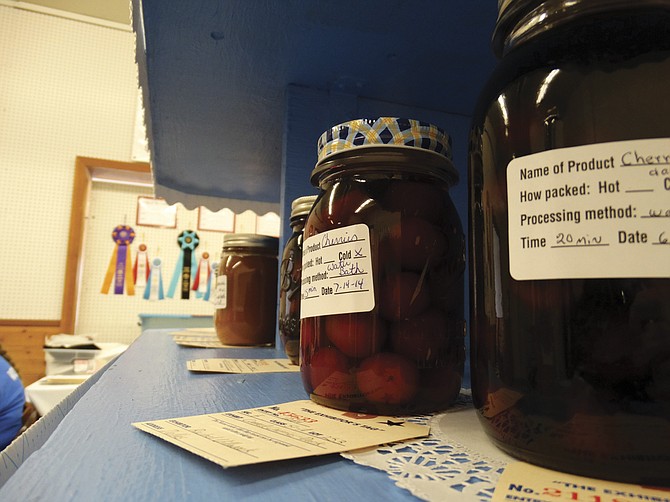 POLK COUNTY — If you have a hidden talent — such as growing what you think are prize tomatoes in your garden, a knack for baking the perfect cake, or an eye for photography — you should show it off at the 2015 Polk County Fair.
"We have a lot of very talented people in Polk County," said Anna Scharf, fair board chairwoman. "Bring us your talent in our open class exhibits. It's more than canning, it's more than quilts. Showcase your personal talent at our fair."
And you still have plenty of time to sign up for the fair's open class exhibits. Fair Manager Tina Andersen said people have been calling about the deadline for open class exhibits, thinking they have missed it.
"They think they have to preregister, so they get close and think it's too late," Andersen said.
It's not. Unlike 4-H exhibits, most open class entries for adults, juniors and youth aren't due until just days before fair, Aug. 6-8.
Categories include artwork, photography, potted plants, vegetables raised in a garden, farm products (including honey and grains), forestry products (including Christmas trees), crafts and textiles.

"I don't think people really understand the breadth of classes they can enter things in at the fair," Scharf said.
Professional judges evaluate each category and winners earn prizes — either gift cards or cash donated by area businesses.
"There is an opportunity for you to get recognized in our county for your talent and also receive a little bit of a gift certificate or a prize cash award," Scharf said.
She added open class is a great place for children who don't have time to join a 4-H club or FFA to participate in the fair with other talents.
"They can still enter that beautiful piece of art that they did at school this year under our junior class or our youth classes," she said.
Open class entry schedule:
• Poetry — July 22.
• Fine arts, photography, crafts, textiles, youth arts and crafts — Aug. 3.
• Foods — Aug. 4.
• Grains, honey, forestry; floriculture; horticulture — Aug. 5.
Entries are taken from noon to 8 p.m. at the fair office, 520 S. Pacific Highway West (99W) on the designated day. For a full list of open class categories, see an exhibitor book online at www.co.polk.or.us/fair.
For more information: Polk County Fair Office, 503-623-3048.