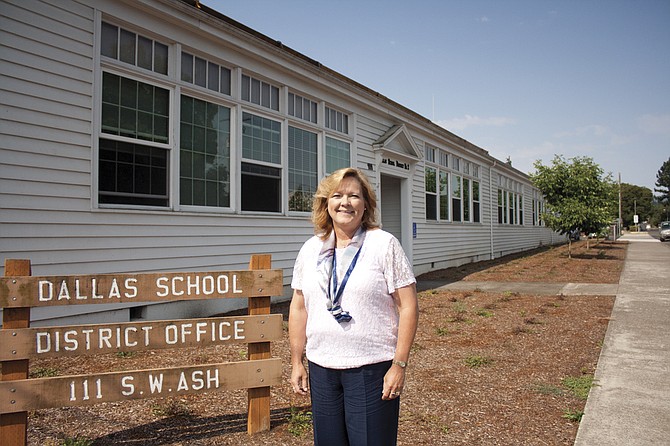 DALLAS — After her first interview for the superintendent's job in Dallas School District, Michelle Johnstone wasn't too confident about her prospects.
The next day, the district's superintendent search coordinator, Greg McKenzie, called her to ask how the interview went.
"I really like it (Dallas), but I don't think I did very well," Johnstone recalls saying to him. "He said, 'No you did fine. Keep it up.'"
He was right. Johnstone was named a finalist and invited for a second interview and visit. She knew right away she wanted to work in Dallas. It didn't take the board much longer to come to the same conclusion. She was hired in March to take over the job July 1, beginning her 19th year in education.
Now after her first weeks, Johnstone couldn't be happier her gut feeling about the first interview was wrong.
"Dallas is amazing and I have absolutely been delighted at every corner," she said.
—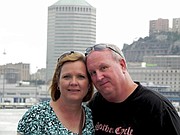 Johnstone, 52, said she always wanted to pursue a career in education, it just took her some time to get there.
She got married soon after high school and had three kids, Sue, Bekkie, and Mark. Eventually, she felt it was time to go back to school to fulfill her goal of becoming an educator.
"I was one of those late bloomers. I think I was ready at that point. I don't think I was one of those kids who could have gone to college right out of high school," Johnstone explained.
She wanted to become a teacher, and later an administrator, "to change the future for children," and it wasn't long before she realized just how much of a difference education — and educators — could make.
Her first teaching job was at Kemp Elementary School in Commerce City, Colo. The school was in a tough part of town. She took it purposefully.
"You hear about poverty, you hear about kids who are living in gang situations and I really wanted to know what kids were having to deal with," she said.
Johnstone added she learned something else, too: "Kids can come to school and learn in spite of it."
One moment stands out. It happened during her second year of teaching.
She taught fifth grade in a classroom that included Spanish and English speaking students. One of her students had moved from Mexico the year before, living with her grandparents because her mother had died in a bus crash.
The girl didn't speak all the way through fourth grade, but one day the next year, she broke her silence.
"I was standing on playground duty and she comes running up to me and said … "This is the worst day of my life," Johnstone said.
She remembers being shocked that the girl was speaking, but kept the conversation going, asking her why. The girl said it was the anniversary of her mother's death.
"It was this huge opening and she started talking about it," Johnstone said.
Later that year, a classmate lost his mother in a house fire. The girl asked Johnstone to interpret for her.
"She said, 'I just need him to know that I know how he feels,'" she said.
Talking about it still brings Johnstone to the verge of tears.
"This is an amazing profession," Johnstone said. "I'm just blown away every day that I get to be part of it."
Later, as the superintendent in Brush School District, she would have another of those experiences. Johnstone said she had a number of conversations with high school students facing expulsion who told her it was a better option than graduating. They wanted to go to work farming or welding and a high school diploma wouldn't necessarily help them with that goal.
In response, Johnstone and Brush created a program, Innovative Connections, that offered students options to stay in school and get internships or other experience in the field of their choice.
"It's about making a difference for them and equipping them with everything we possibly can so that that are successful in society on the path that they choose, not the one we choose for them," Johnstone said.
--
That's a philosophy she's brought to Dallas and has found it's a great fit.
"I really appreciated hearing about the collaboration that we have," she said, noting that extends to all staff. "Everybody works as a team."
She excited for the continued success of Dallas High School's Extended Campus program and new career and technical education classes.
Describing herself as a "nerd" when it comes to analyzing data, she's begun to take a look at results from assessments, searching for areas that need improvement.
Johnstone said she's encouraged by the involvement of community members in the schools in Dallas. She believes that will be key in moving the district forward.
"That, in my mind's eye, is the way that it should be to be working," she said. "The schools belong to the community and the community needs to be present and active in what's going on."
--
When she's not working, Johnstone said she loves "hanging out with my great husband (Bruce) and four dogs."
That crew has spent time exploring the Oregon coast since moving here in June.
"Holy Hannah, the coast is amazing here," Johnstone said. "It's beautiful."
She wants to explore the rest of Oregon and don't be surprised to find her doing some of that adventuring on horseback. She has horses – and an unusual hobby: barrel racing.
"It's crazy fun," she said. "For 18 seconds you have quite the adrenaline rush trying to get through that pattern as fast as you can."
Of course, all of that exploring will include getting to know her new home of Dallas.
"I'm excited to get going," Johnstone said. "I'll jump in there and become very visible within the community as much as I possibly can."