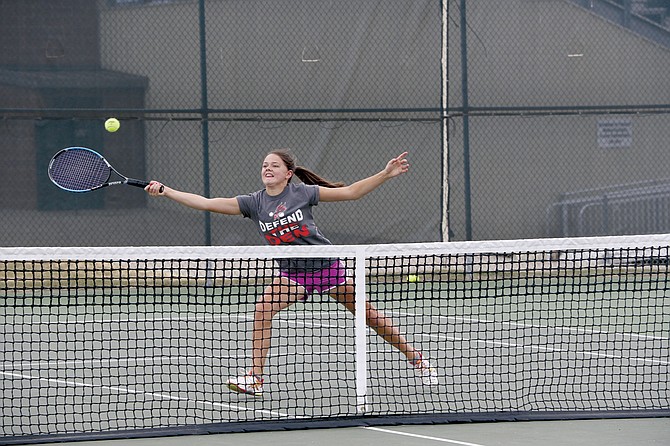 INDEPENDENCE — As the Monmouth-Independence Tennis Tournament hit full swing on Saturday and Sunday, Mike McDougall of Corvallis called it "(Monmouth and) Independence's little secret."
If Central tennis coaches Dave Eble and Patti Youngren have their way, the tournament won't be one of the area's best kept secrets for too much longer.
Eble and Youngren took a primary role in running the tournament this year from Ron Warkentin.
They're hoping to continue what has made this tournament a tradition for more than four decades.
"This tournament has a homey feel and many people know each other," Eble said. "The ones who don't know each other get befriended quickly by the other players. It is very competitive, but does not have the win-at-all costs attitude."
This year's tournament saw about 50 participants, including several from Woodburn, as well as both parents and children.

"My favorite part is seeing the second generation of tennis players coming out to play with their parents," Youngren said. "Tennis is such a social sport and I love watching families share that experience."
This year's tournament, which usually occurs Fourth of July weekend, was scheduled a week later because Independence Day was on a Saturday, likely a reason why this year's numbers were slightly down from previous years, Eble said.
But organizers were pleased with the turnout.
"I'm absolutely happy with the number," Youngren said. "Fifty participants is a good number. Having the smaller draw kept everyone at the Central High courts."
Eble and Youngren said they are already looking forward to next year and helping this event continue to grow and allow players to get more time on the court.
"Patti and I have some ideas that we didn't get a chance to put into action this year, so hopefully next year we can do that," Eble said. "One thing we both want to see is that everyone gets at least two matches or more. We also like the idea of more round robins, allowing players to play against several different people."
Players of all ages took part in this year's tournament. But one age group was particularly lacking, Youngren said — high school players.
"Only a few of our kids took advantage of the tournament," Youngren said. "Our players would have such an advantage during the season if they played tournaments in the summer."
Local players will have one more chance to compete in Polk County during the city of Dallas' Tennis Tournament Aug. 8 and 9. Dallas girls coach Jordan Sollman is organizing the tournament.
For more information: www.dallasor.gov/DocumentCenter/View/3939.
Sollman showed up to watch the tournament while Dallas girls tennis coach Caleb Gillette competed with his younger brother Jacob.
"It's important to support all tournaments because just like baseball and other sports, tournaments fill the need to compete," Youngren said. "Tennis stays alive with summer competition."
As Eble and Youngren begin running a Polk County tennis tradition, they're hoping that "little secret" grows into something more.
"This tournament has run successfully for 42 years, (most recently) under the leadership of Ron Warkentin," Eble said. "My goal is to keep going what he has put so much time and effort in."