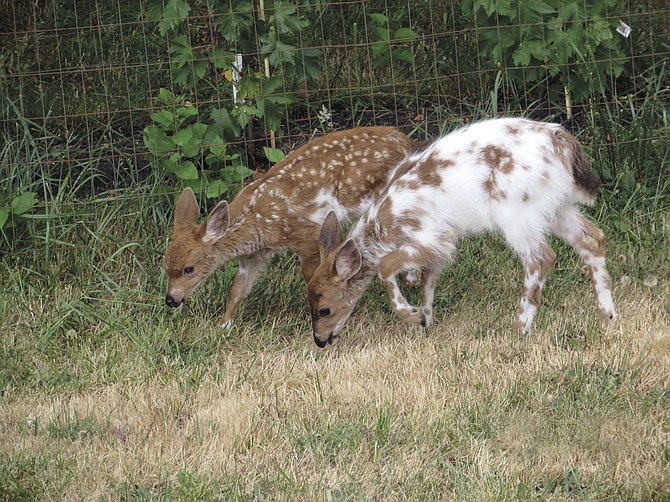 Picnic, auction to benefit SFA series
The Historic Gentle House will host the 15th annual mid-summer luau picnic and auction, "The Fabulous '40s," at 4:30 p.m. on Sunday.
The event is a benefit for Western Oregon University's Smith Fine Arts Series. Cost is $35 per person or $240 for a table of eight. Donations and sponsorships are available.
Live music will be provided by Swingers Unlimited. The evening will include a raffle, silent and oral auctions.
The Historic Gentle House is located on WOU's campus at 855 Monmouth Ave. N., Monmouth.
RSVP by Wednesday (today). Call 503-838-8333; email fineart@wou.edu; online at wou.edu/sfa.
Redhawk Winery celebrates 10 years
Redhawk Vineyard and Winery will celebrate its 10-year anniversary with owners John and Betty Pataccoli.
The vineyard, at 2995 Michigan City Road NW., in Salem, was founded in 1988, with the Pataccolis as owners for 10 years.
To celebrate, the public is invited to a two-day event from 5 to 9 p.m. on Friday and from noon to 5 p.m. on Saturday including live music, barbecue, specials and tastings.
Special deals will be available to wine club members. Reservations are not required.
For more information: www.redhawkwine.com.
Hydrocarts to make splash on Friday
Dallas Fire and EMS will bring back a good, fun — and wet — competition on Friday night as part of the Summerfest Krazy Dayz celebration.
Hyrdocart races will begin at 7 p.m. on Court Street outside the Dallas Fire Department.
During the race, two firefighters will spray the back of a go-cart, driven by a third firefighter, to zoom down the street.
For more on the event, pick up the Summerfest 2015 special Section C in this week's Itemizer-Observer.
Senior Center to serve up treats
When you tire of the heat or just want to rest your feet after walking around and taking in this year's Summerfest Krazy Dayz edition, drop by the Dallas Senior Center and relax in air conditioned comfort.
The Dallas Area Seniors are offering an assortment of refreshments to Summerfest guests Friday from 11 a.m. to 3 p.m. and Saturday after the parade from noon to 3 p.m.
The center is located at 955 SE Jefferson St., right behind the Dallas Public Library.
You can treat yourself to hot dogs, chili dogs and strawberry shortcake. Prices range from $3 to $4.
For more information: Dallas Senior Center, 503-623-8554.
Pick up some new 'summer' reading
The Friends of the Dallas Public Library will hold its annual Summerfest Book Sale Friday and Saturday at the Dallas Civic Center, 945 SE Jefferson St.
Sale hours are from 9 a.m. to 4 p.m. on Friday, and 9 a.m. to 3 p.m. on Saturday. Most hardback and trade paperback books will sell for $1. Mass market paperbacks are 50 cents.
The sale will include music and movie titles, as well as specially priced sets and collectible books.
The room will be cleared between 1:45 and 2 p.m. on Saturday for the traditional bag sale held from 2 to 4 p.m. During that time, a bag of books is $3, or two bags for $5.
A preview of the sale for Friends of the Library members will be on Thursday from 4 to 6 p.m. Memberships are available at the sale. Cost for membership is $10 annually for individuals or $15 for a family.
Donations are accepted. Reader's Digest condensed books, textbooks, VHS movies and magazines cannot be accepted.
Donations may be dropped off during business hours up until the day of the sale at the Dallas Public Library, 950 Main St.
All proceeds benefit the library.
For more information: 503-623-2633.