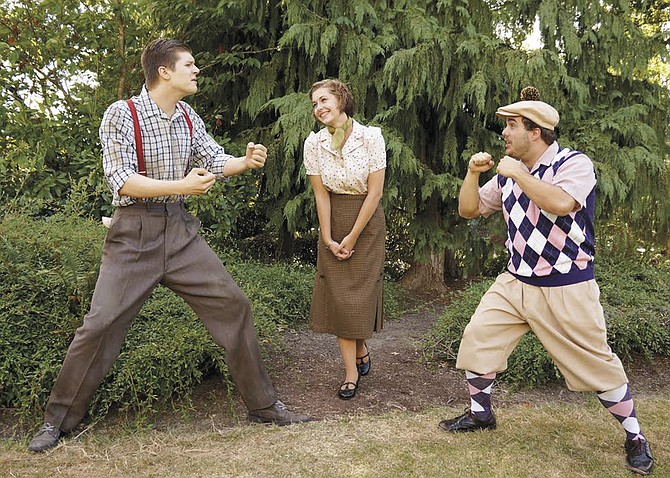 MONMOUTH — For one weekend only, Western Oregon University's outdoor stage will be transformed into a Shakespeare festival, or at least kind of like that.
"One weekend doing the same show does not a festival make," said David Janoviak, director of "As You Like It." "But we want to create a festival environment."
"As You Like It" will be produced by WOU's Valley Shakespeare Company, a new endeavor headed by Janoviak.
"We've been talking about doing summer Shakespeare in the outdoor theater for years," Janoviak said. "I come from a strong background in outdoor Shakespeare, and really wanted to give it a try."
Performances, which begin at 7:30 p.m. July 29 through Aug. 1, are free to the public.
The show features lawn seating.
Performing Shakespeare has inherent challenges.
Add to that the unknowns of outdoor theater, and the actors involved are in for a change of scene.
"As You Like It" is one of Shakespeare's easier-to-understand works, Janoviak said.
The play has been set in the 1920s dustbowl era.
And, if the actors are doing their jobs well, audience members of all ages will understand what's going on.
Western's summer show is always different, said Janelle Davis, who plays Celia.
Davis has never played a lead role in a Shakespeare play, nor has she performed in an outdoor setting.
That goes for fellow actor Belladina Starr, who plays Phebe.
"All the things that could happen," Starr said of the outdoor stage. "Birds, bugs, traffic (noise), audience, sweat."
"Sweat!" Davis and actor Ollie Bergh, who plays Touchstone, chimed in.
"I'll be wearing an argyle sweater," Bergh said.
"Luckily, we start later in the evening," Starr noted.
As for the play itself, Bergh said Shakespeare takes a different sort of commitment than other plays he has done.
"The hard part about Shakespeare is you have to do so much on your own, in your room. Other plays, you learn the words and show up to rehearsal to figure things out," he said.
Davis said she often looks up words in her lines to see how they relate to the 1920s dustbowl, where the play is set.
"It will be interesting to see if I'm understood, if the audience understands what I'm saying," she said.
Enjoy the show
What: Western Oregon University's Valley Shakespeare Company presents, "As You Like It," by William Shakespeare.
Where: WOU's outdoor amphitheater, outside of Rice Auditorium.
When: Curtain is at 7:30 p.m. on July 29 through Aug. 1.
Admission: Free.
Of note: Bring a chair or blanket to enjoy lawn seating at this festival-like show. Seating starts at 6:30 p.m.