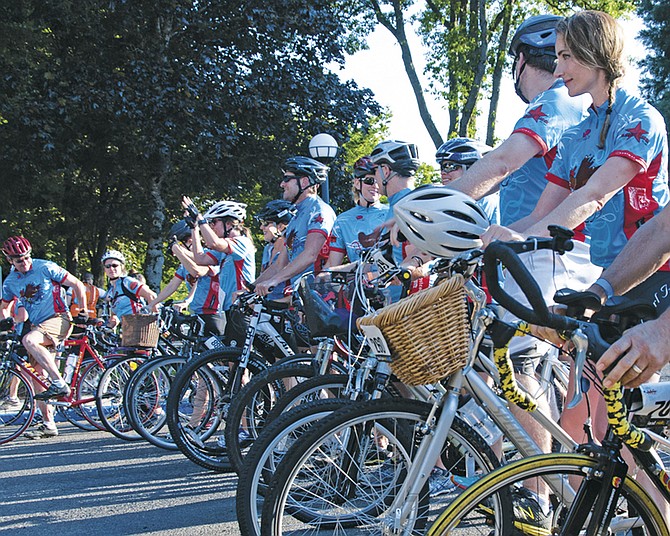 MONMOUTH — Some ride for pleasure. Others to get into shape. For those taking part in Bike MS, which takes place Friday through Sunday at Western Oregon University, they are riding for a purpose.
"A lot of bike events are just about getting on our bike and riding," Bike MS manager Amy Harris said. "More than that, this ride is about supporting people with multiple sclerosis (MS). Many of the people who ride with us either have MS or love someone who has MS or has a family member with MS."
MS is an often disabling disease that affects the central nervous system by disrupting the flow of information within the brain and between the brain and the body.
The disease affects more than 2.3 million people worldwide.
"The thing about MS is you don't know that someone has it," Harris said. "They're living a life that is comparable to anybody's so it's harder to tell. You might not know what the symptoms of MS are."
Bike MS Willamette Valley passes through natural wildlife preserves, historic towns, farmlands and back roads with rest stops every 10 to 15 miles.
Saturday and Sunday's rides range from 30 to 100 miles long.
Cost is $65 and is open to riders ages 12 and older. Day of registration will be available.
You don't have to be a cyclist to take part in the festivities. Guests can purchase food and drink tickets at the registration desk for $10 per meal, $20 per day or $50 for all meals and drinks for the weekend.
If you do ride, be prepared for an experience unlike anything else, Harris said.
"I think first time riders are surprised by the sense of community," Harris said. "They truly become part of it."
There will be musical entertainment, massages and an evening program on Saturday night, along with breakfast on Sunday.
The annual event used to change locations each year, but decided on keeping it at Western Oregon to save on time and money.
"We wanted the focus to be on funding MS research," Harris said. "We wanted our resources going in that direction. This is our fourth year here and it's been great. We have amazing partners at Western (Oregon) and Monmouth and the surrounding area. We love being here."
Harris said they are expecting about 650 riders to take part, about 100 more than 2014.
Their goal is to raise $750,000 for MS research and to support people living with MS.
So far, they've raised more than $417,000.
Fundraising continues for two months after the event, Harris said, and anyone can donate whether they are participating or not.
As Bike MS prepares for what it hopes is a successful weekend, Harris said the event can be inspirational for everyone involved.
"This is designed to raise money for people living with MS and funding research," Harris said. "But the highlight of the event is the people. Just seeing the folks who, not always, but often face challenges that are hard to see are doing this ride."
For more information: www.main.nationalmssociety.org/site/TR/Bike/ORCBikeEvents?pg=entry&fr_id=24766.
Bike MS
• Bike MS raises money to support people living with MS and for MS research.
• Bike MS hopes to raise $750,000.
• Bike MS offers cyclists rides ranging from 30 to 100 miles long.