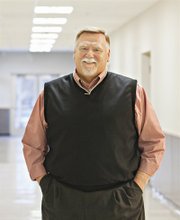 INDEPENDENCE — A new computer system at the Central School District should make getting information about students easier and faster.
The district is moving from eSchool to Power School, a new student information system that will allow teachers, parents, administers and staff access to records in minutes rather than weeks, Superintendent Buzz Brazeau said.
"There are a couple things that are beneficial to us (in the new system)," Brazeau said. "Instead of having information stored in different places, it will all be in one place."
With the old system, it was difficult to hold people accountable about how students were performing because information was stored in many different places, Brazeau said.
"Part of the information was here, part was there," he said. "All of that is something you need to be able to look at."
Power School also has better parent access, Brazeau said.
"If I'm a parent and have a student in elementary, middle and at the high school, I can log on and see all three students at one time," he said. "It can translate some things in 19 different languages."
The new program will cost more initially, but after five years it will be less expensive that eSchool, Brazeau said.
"That initial cost, transition and training are one-time costs," he said.
With the new program, which will be managed locally rather than through the Willamette Education Service District, the gradebook will be standards-based, Brazeau said.
"As you see more and more working toward a standard or proving that I met a standard, gradebooks are becoming more and more based on standards," he said. "So we needed a gradebook that was more friendly, based on standards."
The system also will make it easier for teachers to access individual educational plans (IEP), Brazeau said.
"With our current system, if I'm a special education teacher and you're teaching one of my kids, I have to get you a copy of the IEP," Brazeau said.
At the elementary level, that isn't so difficult. But as students move to the high school, it can get more time consuming, he said.
With Power School, the IEP electronically follows the student, Brazeau said.
"A single sign-in gives you access to all the information," he said. In addition to an IEP, any medical notes or other information about the student — such as a peanut allergy or a restraining order — is all accessible for teachers.
Power School also gives the district a way to help provide details to the Central Health and Wellness Center. Nurses and staff at the medical clinic will be able to easily identify students whose parents have opted them out of getting care, Brazeau said.
"I think there's some real benefit to us to be able to get the information (quickly), package it in a way that we want to package it, and have it available to us at request," Brazeau said.
Teachers, administrators and classified staff will train on the new system throughout the month of August. It should be ready to go before school starts, Brazeau said.