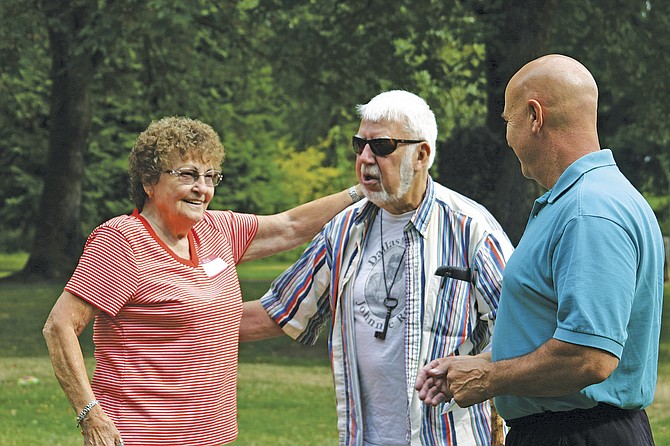 DALLAS — In years past, the Old Timers Reunion in Dallas brought hundreds of people to Dallas City Park each August.
The Dallas Area Visitors Center, which organizes the tradition going in its 53rd year, would like to see it regain those numbers.
In recent years, the attendance has been closer to 50 people.
"It used to be a huge thing, 200 to 300 people," said Bonnie Dreier with the Dallas Area Visitors Center, who took over organizing the annual event when former coordinators stepped down in 2012. "I don't know if we can bring it back, but we are going to try."
Sunday, the "old timers" will gather once again, and the hope is a few more people will show up who have stories to share about their experiences in Dallas.
Dreier said anyone is invited, but especially those who graduated in 1990 and earlier.
She's planning to add events to the reunion this year and in years to come — such as a disc golf tournament — that would appeal to guests of all ages.
Following a tradition established years ago, there will be tables with notebooks of old photos, guest books, cards, letters and newspaper clippings dating back to the 1930s for guests to look through.
Dreier said she's learned much about Dallas in the years since she became involved.
"It's pretty cool to come out and see the history," Dreier said. "People spend hours at the tables during the reunion."
Once again Dallas Retirement Village will provide lunch — spaghetti with all the fixings — from 11 a.m. to 1 p.m.
Local band Cash & Company will provide entertainment during the meal.
Anyone who plays an instrument is welcome to join in a jam session.
The reunion begins at 10 a.m. in Dallas City Park and concludes at 2 p.m.
While the event is technically for "old timers," anyone with a connection to Dallas is welcome to attend.
"We want to invite the whole community," Dreier said.
Old-time gathering
What: Old Timers Reunion.
When: Sunday, 10 a.m. to 2 p.m.
Where: Dallas City Park.
For more information: Bonnie Dreier, 503-623-2564.