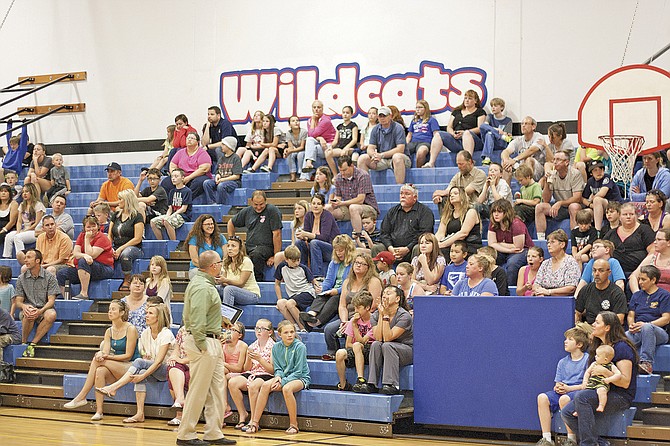 Central volunteers, staff to be honored
INDEPENDENCE — Lyon Masonic Lodge No. 29 AF&AM will host a recognition dessert June 10 at 6 p.m. at the Independence Masonic Center.
The event will honor outstanding parent volunteers and classified employees of schools in Central School District. Superintendent Buzz Brazeau and school principals will be in attendance to help recognize honorees.
The Masonic Memorial Scholarship winners will also be awarded. The event is open to the public.
RSVP to Howard Haynes, 503-838-0791; or email to hhaynes@minetfiber.com.
KVCS in need of maintenance supplies
KINGS VALLEY — Kings Valley Charter School is taking donations of items to help complete regular maintenance routines.
Needed are: a tow-behind garden cart for a riding mower; basic hand tools, shovels, rakes, pitch forks and garden hoes; and a wheelbarrow.
For more information or to donate: David Crowe, 541-929-2134.
School districts to offer summer meals
POLK COUNTY — Central School District 13J will offer breakfast, lunch and dinner for free beginning Monday.
Meals will be served Monday-Friday through Aug. 28, and will be available for children 18 or younger.
Independence Elementary School will serve breakfast from 8 to 8:30 a.m. and lunch from noon to 12:30 p.m. Monmouth Elementary School will serve lunch from noon to 12:30 p.m. Ash Creek Elementary School will serve lunch from noon to 12:30 p.m. and Henry Hill Educational Support Center will serve lunch from noon to 12:30 p.m. and dinner from 4:30 to 5:30 p.m.
Dallas School District will offer free lunches to children ages 18 or younger beginning June 15. Lunches will be provided weekdays through Aug. 28 at Whitworth Elementary School from noon to 12:30 p.m.
Kings Valley seeks music teacher
KINGS VALLEY — Kings Valley Charter School is looking for a music teacher for high school to help students achieve applied arts credits toward graduation. The charter also is looking to fill other positions. For information: email pskvcontact@gmail.com.
Uhrig earns doctorate at Oregon State University
CORVALLIS — Monmouth resident Emily Uhrig completed her doctorate studies at Oregon State University. Uhrig Ph.D. earned her doctorate in zoology.
Her field of study will be parasitic implication in the common garter snake. Uhrig plans to pursue a post doctoral position in Australia in the near future.
Local student makes dean's list at COCC
BEND — Cody Manzi, of Monmouth, was named to Central Oregon Community College's dean's list for winter term. The list is based on enrollment in 12 or more credit hours with a grade-point average of 3.60 or higher.
Lucas Costa receives multiple honors FRONT ROYAL, Va. — Lucas Costa of Monmouth has been inducted into the National Spanish Honor Society.
He is the son of Cinthia Costa Jones of Monmouth and Alexandre Costa of Curitiba, Brazil.
He also won first place in the Persuasive Division of the 2015 Sophomore Speech Contest; won first place in the fiction category for a submission to the 2015 Randolph-Macon Academy Literary Magazine Competition; and was recognized for outstanding achievement in the Air Force JROTC.
The ceremony took place on March 27 at Randolph-Macon Academy in Virginia, where Costa is a sophomore. Randolph-Macon Academy is a college-preparatory, coeducational boarding school for students in grades six through 12.
More like this story