DALLAS — If there's been one thing that defines Dallas boys' soccer team in recent years, it's change.
New coach John Jones, who is also a teacher at Dallas High, is hoping to put an end to that.
"Well, the one thing I hope to bring is some consistency because of the coaching changes," Jones said. "We've had some great coaches here in the past and for work or personal reasons, had to move on. I live in Dallas here.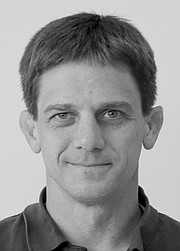 "I'm in the building and I'm involved in the community and hope to bring some stability. I've been coaching with the Dallas United club for the last several years. It seemed like a good fit."
The Dragons have seen five different coaches in the past five years.
The turnover has, in part, resulted in struggles on the field, including a winless campaign during the 2014 season.
But Dallas saw improvements on the field, and Jones said he hopes to continue in that direction.
"We're moving from using the skills they've picked up to putting the bigger picture together," Jones said. "We want them to bond as a team and get a feel for where their teammates will be (on the field)."
Jones has been involved with youth soccer in Dallas for 14 years. While he may be getting his first high school soccer coaching experience, he is confident that the community will help.
"As far as knowledge of the game, I have a lot to learn still," Jones said. "I think there's a lot of people in this community who can help with that. I think people will come together to help support this program."
Jones has met with players and begun the process of learning the ins and outs of his new team.
"I'm ready to get to know this group of boys better," Jones said. "I'm excited to see what skill sets we have, what our strengths are and where our weaknesses lie and what we need to work on. I have to get to know their personalities of these boys."
Up next will be a summer workout program.
And while some kids are resting during the summer, Jones said the soccer squad will be laying the groundwork for the upcoming fall season.
"We had an interesting meeting," Jones said. "We have a summer workout schedule and hope to get them out to work on speed and agility and touching the ball as much as we can."
Dallas finished 0-13 overall in 2014. The Dragons saw four seniors graduate from last season's roster.
Jones will face a difficult challenge in 2015. Five teams from the Mid-Willamette Conference advanced to the state playoffs: Woodburn, Corvallis, South Albany, Crescent Valley and Central.
Woodburn advanced to the state title game before falling to Hood River Valley.
But Jones isn't daunted by entering what could be one of the state's most competitive leagues.
He's ready to give the boys soccer program something it's been lacking — a steady hand over the long term.
"I'm looking forward to it," Jones said. "I'm excited about the upcoming season and being involved with Dallas soccer."