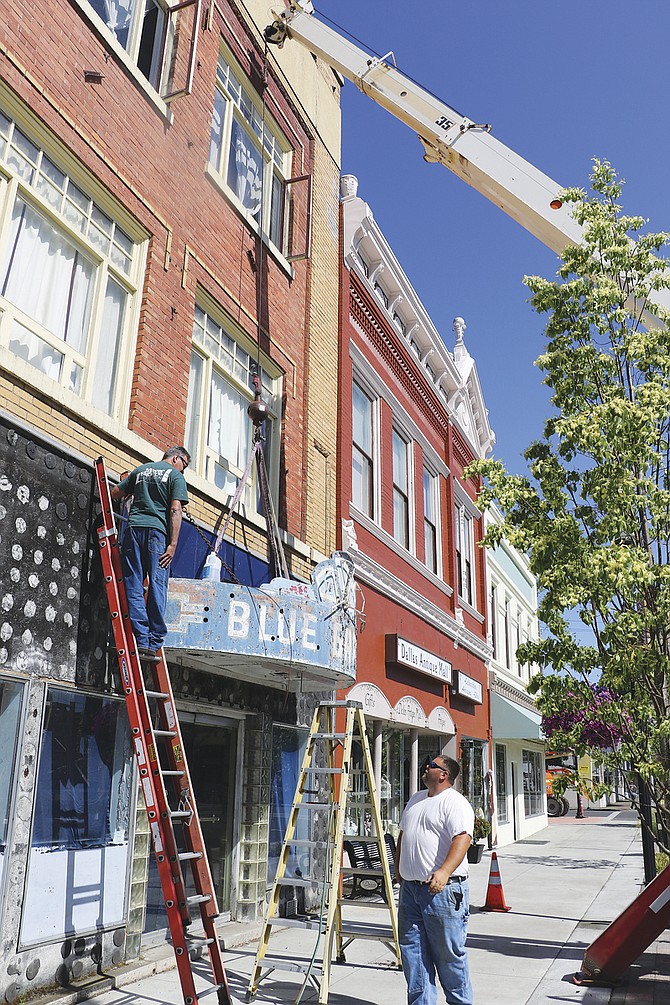 DALLAS — Blue Garden's sign is gone, but downtown Dallas history buffs shouldn't fret. It will back — restored — soon.
The building's new owner, Bob Collins, had the iconic sign, put up in 1924, taken down last week to be assessed and refurbished by Martin Bros Signs out of Salem.
"The idea is to do as little to it as we can," Collins said. "We are trying to keep as much of it original as possible."
Collins estimates the sign will be gone three weeks to a month and return, he hopes, as good as new.
"In the interim, we will be working on the front facade, putting the tiles back on and getting it ready for the sign," he said. "It won't be time wasted."
Collins has applied for facade grants from the Dallas Urban Renewal Agency and a state program called "Diamonds in the Rough," which is for historical building restorations. As to the tiles, Collins is working to find the perfect replicas of the cobalt blue tiles that were on the building previously.
"Whatever we can do to bring it back to its original luster, we will do it," he said.
Collins began the process of buying the building in March, with hopes to have the sale go through by April. That did not happen, however, due to a number of title liens and holds on the property. He said it took a "marathon closing," but the sale is final now.
"I was beginning to think we weren't going to get there for a while," Collins said. "But it's onward and upward from here."
The daunting task of repairing and restoring the inside also will begin soon. Collins planned to do an evaluation of the inside of the building last weekend. His initial assessment revealed just how much work will have to be done.
"It is totally atrocious inside. It would be easier to start over," he said. "That's OK. I knew what I was getting into. We just have to go in and figure out how we are going to eat our elephant and start eating."