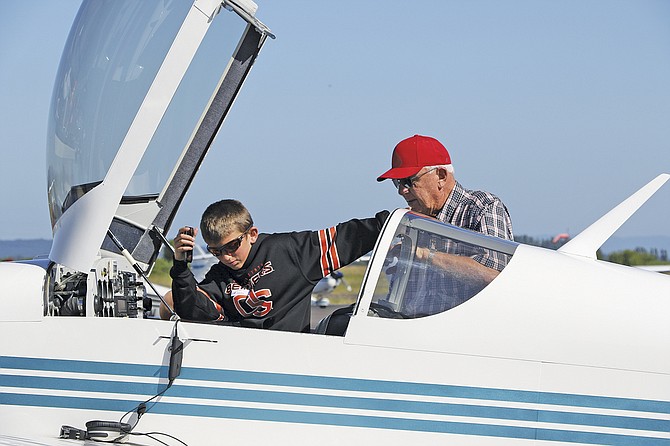 Celebrate new park features
Monmouth Parks and Recreation Board and Tree Advisory Board will host an annual potluck dinner on Thursday after a dedication of the park.
The $620,000 project is the largest park project in Monmouth's history. To celebrate the project completion — and the beginning of summer — a dedication of the park, walking trail and arboretum will be at 6 p.m., followed by the potluck.
The community is welcome to attend both the dedication and the potluck. Bring a dish to share.
For more information: Mark Fancey, 503-751-0147.
Local painter is artist of the month
Dallas Public Library art display for June features the work of Debbie Howe, a Dallas High School graduate who attended Portland Commercial Art College.
Howe now lives outside Dallas on a farm. Her paintings show rural scenes and landscapes. She is teaching her grandchildren to paint and a few of their painting s will be on display alongside hers.
For more information on the monthly display: 503-623-2633.
Firefighter's host Sunday breakfast
The city of Dallas Fire and EMS will host its annual Father's Day Breakfast Sunday from 7 to 11 a.m.
Cost is $5 and children ages 6 and younger are free. Proceeds from the breakfast will go toward supporting Relay for Life and the Frank "Harpy" Bovard Scholarship fund, which gives a high school senior financial assistance for college through a process that includes academics, community service and an interview panel.
For more information: April Welsh, april. welsh@dallasor.gov.
DSA hosts music event on Monday
Dallas Area Seniors will host a "Music is in the Air" dance from 7 to 10 p.m. on Monday at the Dallas Civic Center.
Senior Karaoke Band and Singers will be featured. Everyone is invited. Admission is by donation. Refreshments will be served.
For more information: 503-623-8687.
Storyteller to visit Wagner Library
Awarding winning storyteller Christopher Leebrick will speak at Wagner Community Library, 111 N. Main St. in Falls City Thursday at 10 a.m.
Oregon College Savings plan is sponsoring the visit, which will include Leebrick telling world folk tales, original stories, narrative poetry, "whoppers" and jump tales. His performance includes mood-setting music with instruments such as the harmonica, the tambourine and the eastern cedar flute.
The performance is part of "Save for College, Save the Day!," a statewide campaign that encourages kids and teens to participate in summer reading at their local library.
For more information: 503-787-3521, ext. 319.
PCL Solstice event auction Saturday
The 19th annual Summer Solstice Benefit Auction will begin at 5 p.m. on Saturday at Eola Hills Wine Cellars in Rickreall.
Tickets are $25 each and include dinner, the silent auction, an oral auction and wine. The silent auction will include many pieces of art and fun, themed baskets.
The auction benefits Partnerships in Community Living Inc.
Tickets may be purchased online at auction.pclpartnership.org, or by calling PCL at 503-838-2403.
For more information: Kevin Priest, 503-569-6580.
Chamber luncheon to feature CCCBI
Marcia Bagnall, with Chemeketa Community College's Center for Business and Industry will be the featured speaker at Monday's Dallas Area Chamber of Commerce luncheon.
Bagnall will review the range of services CCBI currently offers, from online classes to customized training from reference material, to professional advising. 
Doors open at 11:30 a.m. and lunch is served at 11:45 a.m. The program begins at noon.
Admission is $12 for chamber members; $15 for nonmembers; and $10 for members who bring new guests.
More like this story