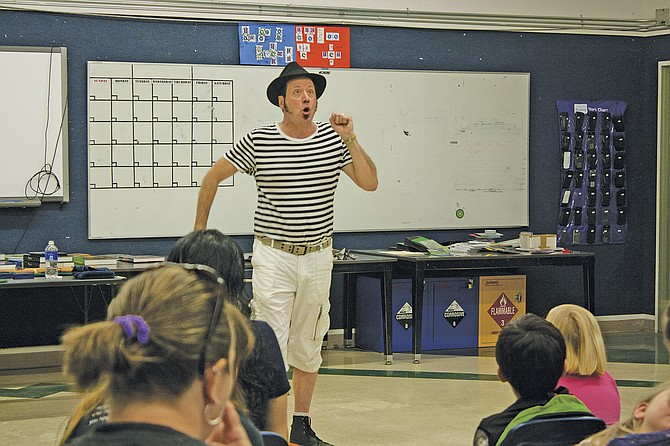 Free bike checks at Bounty Market

Need a bike safety check before you head out for a ride this summer? Veal's Bikes Plus from Monmouth will be at the Polk County Bounty Market in Dallas Thursday offering free safety checks.
Bike specialists will check tire pressure and fill tires, check and adjust brakes and gears, and perform helmet inspections to make sure they have a proper fit.
Veal's Bikes will be at the market for this special event from opening to closing, 10 a.m. to 3 p.m. Polk County Bounty Market Dallas is located at the Academy Building lawn at the corner of Academy and Main streets.
For more information: 503-623-2564.
BBQ competition looking for teams
Want to test your barbecuing skill and celebrate July Fourth at the same time? Dallas Freedomfest's BBQ Throwdown competition still is looking for teams for the third annual event. The registration deadline is Friday at a cost of $175.
Teams will compete for prizes, including a $900 grand champion payout. The BBQ Throwdown is a Pacific Northwest BBQ Association-sanctioned event, meaning competitors could advance to larger barbecue competitions.
For more information or to find registration forms: www.dallasoregon.org/freedomfest/.
Artists wanted for Fourth art show
The city of Monmouth's Fourth of July festival will host the second annual Community Arts Show in Main Street Park on July 3 - 4.
Artwork will be accepted from local artists, from kindergarteners to professionals, limited to one piece per artist. Entries must be submitted to Volunteer Hall, 144 S. Warren St., Monmouth, on July 1. Entry forms are available online at www.ci.monmouth.or.us.
Art will be accepted in all media, but there are minimum and maximum size limitations.
During the exhibit, residents will be able to vote for their favorite pieces in each of six categories. The winners will be displayed in the gallery at the Monmouth Public Library July 7 -14.
The festival also is looking for local artisans to volunteer to teach holiday arts or crafts for children during the celebrations.
For more information: Phyllis Bolman, 503-751-0145.
FBB hosts local playgroups for kids
Family Building Blocks hosts regular playgroups for children in both Dallas and Independence. Activities and snacks are provided at both locations.
The Dallas playgroup is the third Tuesday of every month, from 10 to 11:30 a.m. at the Academy Building, suite 216. RSVP by calling 503-877-8473.
The Independence playgroup meets the third Friday from 10 to 11:30 a.m. at St. Patrick Catholic Church, 1275 E St., Independence. RSVP by calling 503-363-3057.
Igou celebration set for Tuesday
Independence Lt. Rick Igou retires Tuesday after a career in law enforcement that spans more than 30 years.
A retirement reception will be held from 2 to 5 p.m. Tuesday at the Independence Civic Center, 555 S. Main St.
Igou, a Central High School and Western Oregon State College graduate, has worked for both the Monmouth Police as a reserve and for the Independence Police. He also spent time working for the Marine Corps Reserve as a military police officer.
YMCA camps still have openings
Monmouth-Independence YMCA is offering summer day camps for youths running through Sept. 4.
Camps include Space and Beyond (July 6-10), Survival Camp (Aug. 10-14) and Super Heroes (Aug. 17-21).
The Y is accepting donations for items for some camps, including dress-up costumes for the Super Heroes camp.
Camp runs from 9 a.m. to 4 p.m. and costs $105 for members, $150 for nonmembers.
For more information about the summer camp program, or about YMCA membership: www.theYonline.org, or 503-838-4042, or find the organization on Facebook.
CHS Class of 1955 holds 60th reunion
Central High School Class of 1955 will hold their 60th class reunion on Saturday at McNary Golf Club restaurant on Saturday. No host bar and social hour begins at 6 p.m. with dinner being served at 7 p.m. The cost for the event is $40 per person.
Contact Marc Nelson for more information at 503-881-9806.