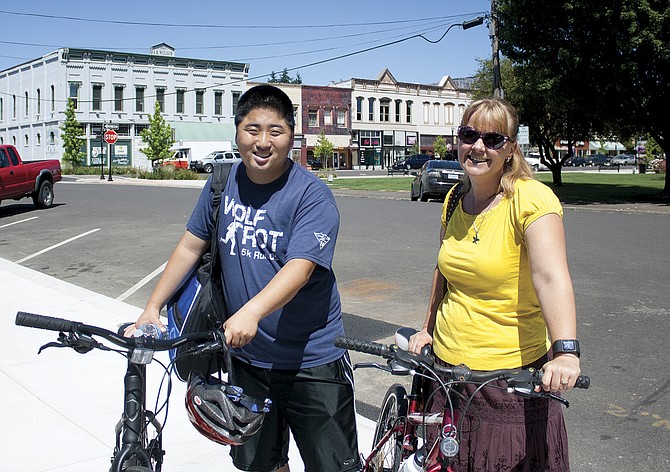 This is the third of a series of columns chronicling my journey in training for my first sprint triathlon on Saturday.
In the movies, the main character will have a realization when suddenly everything makes sense. That moment when a big change in the plot means everything will turn out OK. When the inspiring music swells in the background and the main character overcomes whatever stands in his or her way to win the game, defeat the bad guy or win over their romantic interest.
This was not one of those moments.
In the midst of attempting a training run including two-thirds of this sprint triathlon with my co-worker and fellow competitor Emily Mentzer, I went through what I call the stages of triathlon training:
Excitement: You feel determined, ready to tackle this challenge.

Optimism: After swimming 500 yards, I felt surprisingly strong and ready to tackle the bike ride.

Rationalization: Despite a little tiredness creeping in during the start of the bike ride, I figured I was pacing myself well enough to finish in good time.

Delusional: As we turned around in Monmouth to finish the second half of our trek, I had a new blast of energy. This wasn't so hard! I felt like a pro cyclist pushing up a mountainside ride. Yes, I know my ride was nearly all flat. No, that didn't lessen my pride.

Reality check: They say pride comes before the fall. And as the wind hit us with about four miles left in our ride — let's just say that overconfidence disappeared quickly. My pace slowed to a crawl.

The "I would swear if I had the energy to phase": It can be discouraging when you're struggling for air and someone passes you who barely looks tired. It's about this point that I think I've made a huge mistake.

Just glad to be done: Upon finishing the bike ride, my legs didn't feel like they could walk, let alone go for a run.

Return of optimism (or delusions): After sitting for a few moments while heading home, the thought creeps in … that wasn't so bad. Let's do this!
Now, all the blood, sweat and tears have led to this. The triathlon is Saturday at 9 a.m. (a change from its originally scheduled start time of 10 a.m. due to predicted hot temperatures on race day). But your final preparation must begin now.
For starters, make sure to stay well-hydrated, organizer Brian Joynt said. Tragically, that means it'd be best to avoid a pre-triathlon celebration involving adult beverages.
"In the days leading up to your event, putting a lot of fluids in your body is important, especially with the warmer temperatures expected," Joynt said.
Then, there's the night-before meal. As a high school cross-country runner, that was my favorite meal.
Loading up on carbohydrates meant anything on my plate that looked edible was going to be devoured.
Carb-loading is important — but be smart about it, Joynt said.
"Don't do anything you haven't done before," Joynt said. "Don't eat a big pasta dinner if you're not usually eating pasta. Don't eat anything spicy if it might upset your stomach because nothing is worse than an upset stomach during a triathlon."
And, when Saturday rolls around, don't forget to eat something small about one hour prior to race time.
Finally, no more strenuous activities — something I can excel in!
"You've done your training," Joynt said. "Don't stress out about it and try and do a heavy workout at the last second. You want to keep your legs fresh. Maybe go for a light, slow jog to keep them loose, but no more 15-mile bike rides or hard runs."
Once Saturday hits, Joynt recommends getting there an hour early to set up your bike, change of clothes, etc., and suggests having one bottle of water and one sports drink for the race.
There will be water available at the turn around point of the running portion.
Headed into the final days before my first triathlon, one thing is clear to me — eight weeks goes by fast! I have no idea how I'm going to fare, but I'll go on record with the time I'm shooting for: 2 hours, 5 minutes and 35.44 seconds.
It's time to put up or shut up as they say.
Training for this triathlon hasn't been easy, but it has been fun.
Part of me still imagines a triumphant finish, one with a strong sprint to the end. More realistically, if I'm still standing at the finish line, that would be a plus.
As difficult as it may be, I'm starting to see the appeal of these events. And a part of me yearns to do another one.
But first, let's just see how I feel Saturday afternoon.