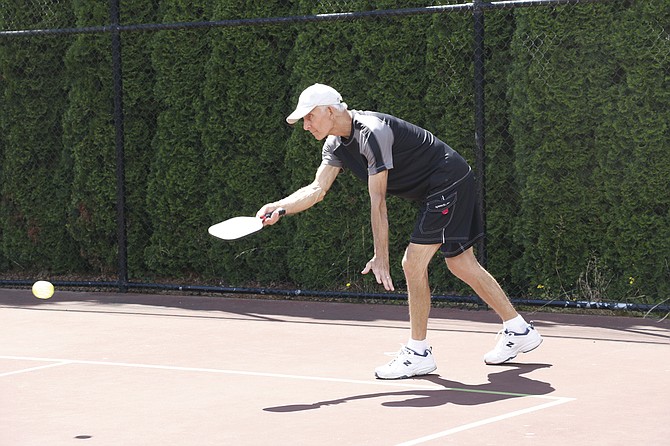 DALLAS — Richard Winn has seen pickleball grow in popularity in Dallas since he teamed with the city's recreation department in 2013. Now, he's helping expand the city's offerings to those looking to try the game, or taking their pickleball game to a new height.
Pickleball is open to people of all ages each Monday, Wednesday and Friday from 10 a.m. to noon at the Roger Jordan Community Park tennis courts. This year, the city has more equipment to use.
"We have these portable nets we received from a grant from the USA Pickleball Association (USAPA)," Winn said. "These nets are about $137 each and we bought two of them. They're much better because last year, we were using, like, badminton nets and they sagged and you could never get them to be the right height."
Pickleball can be played in singles or doubles. Similar to tennis, opponents return hits over a net and score a point when an opponent does not return a ball successfully or the ball goes out of play.
No previous athletic experience is needed.
"Some people come to us having never played anything," Winn said. "It takes them maybe six months and they get really into it."
The city also has equipment, including paddles and balls, for newcomers to use while they learn the ins and outs of the sport.
"Paddles can cost $45 to $125," Winn said. "If you play one time and you don't like it, then what do you do? We let people come use our paddles and discover if this is for them."
Pickleball can be played in singles or doubles. Winn said they had about 18 people playing on their first day on June 15.
Since then, they've had experienced players, new players and everything in between. Winn has already had an experienced tournament player give tips, while other locals have traveled to tournaments to compete or watch more skilled players.
"We just want people to show up," Winn said. "Walk through the gate. We give them lessons if they need it and have some fun."
For players who take a liking to the sport, Winn said they have formed a Dallas pickleball club, with dues of $10 for a couple annually. The dues help pay for more equipment for people to use, including balls, two more nets and paddles. A tennis court can accommodate four pickleball courts, Winn said and the club would like to, at some point, have enough nets to have multiple games playing on both courts.
Pickleball will run through Sept. 25, and Winn hopes this summer attracts even more new players in the area.
"The game is growing by leaps and bounds," Winn said. "This is an easy way for people to learn and try out something new."