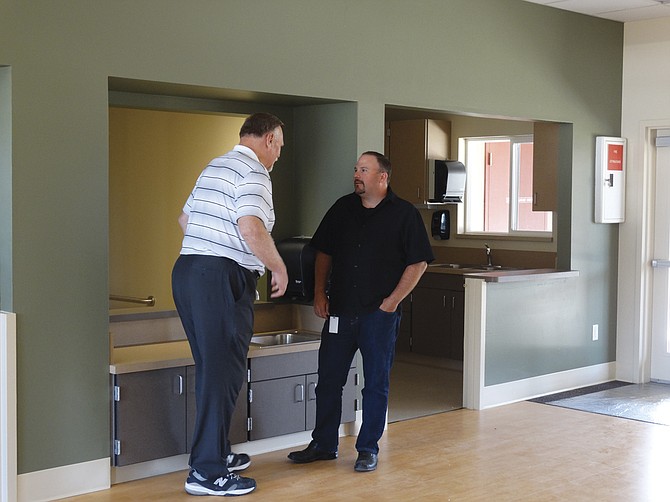 INDEPENDENCE — It's been more than a year since students in Falls City have had access to medical care in their own city.
Since the nurse practitioner's office there closed in May last year, there has been no health care available in town, said Jack Thompson, Falls City School District superintendent.
"It's been difficult," he said. "The last couple of years, we've had the dental van come help the kids out, but we have not had any health care available to the kids. There's a lot of people in our community who don't have access to cars to get their kids to the doctor."
With the opening of the Central Health and Wellness Center, all that will change.
The school-based health center, which will host an open house for the public from 4 to 6 p.m. on Thursday, will provide health and wellness services — including dental and mental health — to students in Polk County, as well as the community in Monmouth and Independence.
"It will make a big difference," Thompson said. Plans are underway between Central and Falls City to provide school buses to get Falls City students to the health center on a regular basis, where they can get immunizations, or check on a sore throat.
The project's contractor, Dalke Construction Co. Inc., has completed the remodeling of what used to be the alternative education building kitty-corner from Central High School, 1601 Monmouth St., Independence, ahead of schedule.
The building had to be significantly remodeled to accommodate the health center, from dental and exam rooms to sound-proof rooms for mental health help.
On the other side of the building, the infant-toddler space had to be completely redone, with antiquated lockers and flooring replaced with modern amenities.
"We have a good bunch of partners here," said Dan Harrold, superintendent of the project.
The center will provide infant-toddler care for babies aged 6 weeks to 3 years. The Research Institute at Western Oregon University — formerly known as the Teaching Research Institute — will provide the child care for babies and toddlers, Ingrid Amerson, director of TRI, said.
"We can provide that continuity of care for these young children," Amerson said. "They'll be working with, for the most part, the same teachers. We want to create that environment where children can feel safe and comfortable."
The child care component will allow teen parents to return to the classroom and complete their high school education. In the Monmouth and Independence ZIP codes, there are more than 100 teen mothers between the ages of 11 and 19, said Brent DeMoe, Polk County Family and Community Outreach.
Efforts are underway to recruit those youths back to school, Amerson said. The infant-toddler center will be open from 7:30 a.m. to 5:30 p.m. beginning Sept. 8, the first day of school.
Teen parents will have first dibs on slots for their kids, but if spaces are available, the child care facility will be open to the community.
The facility was paid for through state funding and grants. It will operate through Salem Health, Capitol Dental and Polk County Health Services.
Although no one intends to make any money from the center, fees generated should allow it to pay for itself, said Buzz Brazeau, Central School District superintendent.
The center will be run on an opt-out policy. That is, anyone registered at Central schools will be automatically allowed to use the center unless parents opt out their children. Forms to opt-out will be included in school registration forms with each student, Brazeau said.
How will it work?
For elementary school children, parents will be called if the child is not feeling well, as normal. For middle and high school aged children, they will be allowed to ride their bike or walk to the center. If their parents have not opted them out, they will be able to receive treatment or get a referral and go back to class.
The center will accept insurance programs, including Oregon Health Plan. County health services will be available across the street at the old district office to help enroll people in OHP if needed.
Check it out: Central Health and Wellness Center, 1601 Monmouth St., will host an open house for the public from 4 to 6 p.m. on Thursday.