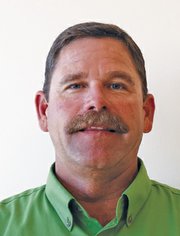 INDEPENDENCE — More students are participating in sports now that athletics are back at Talmadge Middle School.
Athletic Director Dale Cutsforth told the Central School Board at its Monday meeting that 339 youths have participated in sports so far this year, compared to 252 during the 2013-14 season.
"We believe a direct impact to participation is the reduced fee," Cutsforth said. "There's nothing worse than turning a kid away who can't pay the fee."
The fee for participating in middle school sports is $25 since the district reinstated athletics in the building. Before that, Central Youth Sports, which kept sports programs going while the district could not afford to do so, had a $75 participation fee.
Cutsforth said having the athletics program back in the school building has helped students — and staff — in other ways.
"It's easier to track academics of athletes," he said. "Another positive is our coaches are teachers."
Through CYS, coaches were often parents or volunteers outside the school culture. Now, coaches see students in the halls and classrooms daily.
The return of athletics has also added school spirit and pride for the Talmadge Cougars, Cutsforth said.
"The talk around school is what athletic events happened the day before or the week before," he said.
Talmadge Principal Perry LaBounty said the restoration of athletics has gotten students more active and more successful.
"CYS was a great bridge for us, but it's great for us to be restored," he said.
Board member Jennifer Mason said she was pleased that the efforts at the middle school are growing "whole students."
For a schedule for Talmadge athletics: www.central.k12.or.us, go to "schools" and then "Talmadge Middle School."