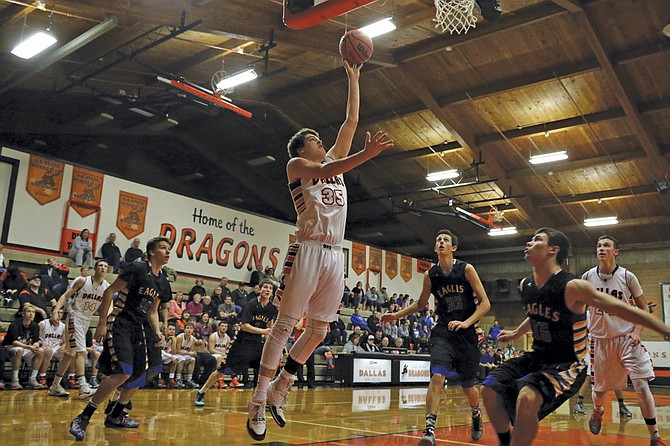 WILSONVILLE — From the moment the season began, Dallas' boys basketball team had its eyes set on one goal: Get to the state quarterfinals at Gill Coliseum in Corvallis.
On Friday, the Dragons fell just short, losing in the first round of the Class 5A state playoffs to Wilsonville, 69-35.
"We played a great team," Dallas co-ach Trent Schwartz said. "We needed a lot of things to go right for us. We didn't do a great job finding their shooters on defense."
Everett Minahan, Dallas' leading scorer on the season, was held scoreless until the second half. From there, Wilsonville pulled away to advance to the quarterfinals.
"It was fun to experience the playoff environment," Dallas senior guard Isaak Tichenor said. "While I feel we could have played a much better game against them, you can't take any credit away from them. Wilsonville played a great game."
The Dragons' offense may have sputtered against Wilsonville, but it soared against Eagle Point in the state play-in round on March 3.
Minahan scored 20 points as Dallas rolled past the Eagles 84-59, a season-high in points scored by DHS. The Dragons led 29-26 with two minutes left in the first half. By the end of the third quarter, Dallas led 60-38.
"We shot the ball well and I think it showed what we could do on the offensive end," Tichenor said. "Our defense had really defined us (this season) and it was nice to see a good offensive performance."
The Dragons will lose six seniors to graduation, including starting posts Hayden Broadus and Brad Huey. But Dallas' younger players didn't wait long to start working toward next season.
"I like the attitude already," Schwartz said. "Three or four of the underclassmen asked if the junior varsity coach was going to open the gym on Sunday so they could work on their game. We will be a different team next year. We won't have the length that we've had and won't be as post oriented. It will be fun to see the younger kids coming up."
While the Dragons failed to reach the quarterfinals, Dallas reached the state's final 16 teams for the first time since the 1999-2000 season, Schwartz said, an accomplishment that the players should be proud of.
And Schwartz hopes the team will build off of this season's success in the coming years.
"They accomplished what no other Dallas boys team had done in the past 15 years," Schwartz said. "They worked their tails off and they were driven. To see the players mature was rewarding."