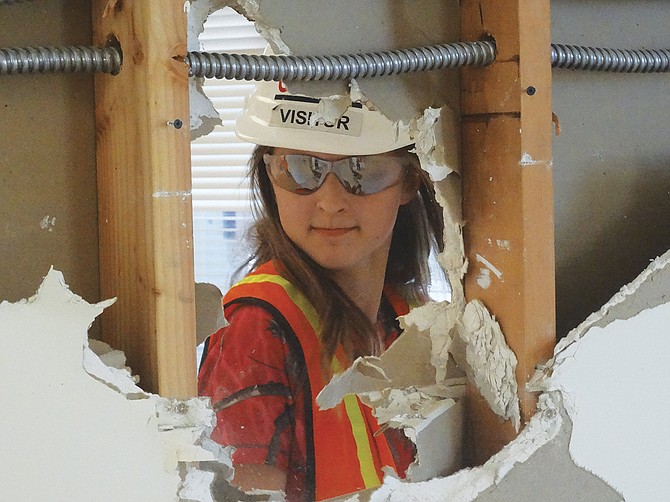 INDEPENDENCE — Walls came down on Thursday at what will be the new student-based health center for Central School District kitty-corner from Central High School.
Five youths from Central High School donned hard hats, visors, gloves and bright orange vests, grabbed a sledge hammer and began the destruction, knocking down walls in what will be the child development Early Head Start part of Central Health and Wellness Center.
The center will open with full dental, medical and mental health services on June 15 if all goes well, said Brent DeMoe, Polk County Family and Community Outreach manager.
While the center will provide much needed services to families in the Monmouth and Independence ZIP codes — 60 percent of students and parents missed school and work time to attend medical appointments, DeMoe said — perhaps the biggest service will be infant-toddler care for teen parents.
The program will be in partnership with Western Oregon University Teaching Research Institute, said Jon Reeves, Head Start director.
"The focus here is to serve the children of teen parents, get the parents back in school and have their young babies close," Reeves said. "Then they'll learn infant-toddler care and parenting while they're going back to school."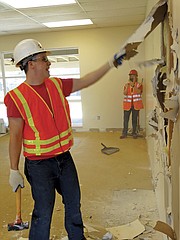 Though the number of teen parents enrolled at Central or Talmadge Middle School are not astronomical now, there are 109 teen mothers between the ages of 11 and 19 in the Monmouth and Independence ZIP codes, DeMoe said.
Many of them are not attending school, Superintendent Buzz Brazeau said.
"We think we would have more if we have a great facility," he added. "It's a pretty large number of kids who aren't in school currently."
School-based health centers are generally geared toward middle- and high-school students, but the district doesn't have enough students to make the medical center sustainable, DeMoe said. To make it worthwhile for the medical partners — Capitol Dental and Salem Health — the center will be open to the entire community.
The center will allow Salem Health to better serve the people of Monmouth and Independence, said Pam Cortez, director of operations at West Valley Hospital in Dallas.
"It's been a goal to be a partnership with all the communities we serve," she said.
The ability to help children be healthier and make healthier choices fits with Salem Health's wellness model, rather than an illness model, Cortez noted.
"We will be able to provide healthy lifestyle changes that (children) will be able to keep through their lives," said Karen Remington, clinic manager.
The clinic will open with dental technicians, as well as teledentistry — allowing communication off site with a dentist — a family nurse practitioner, medical assistant and clinic coordinator.
Also, Polk County Mental Health and prevention specialists will staff the facility, DeMoe said.
"Hopefully we'll detect things early," he said. "A lot of times we can detect something in kids, but we're never going to see these people as adults later."
The facility will be accessible with parental consent, through the details have not yet been worked out, DeMoe said. A youth advisory committee will help design exactly how the health center will be used.
The center will be governed by policies set by the Central School District Board of Directors. One thing the board decided early on was that no contraceptives would be available at the health center, and no family planning would be discussed.
By law, DeMoe said the center has to offer tests for pregnancy or sexually transmitted infections.