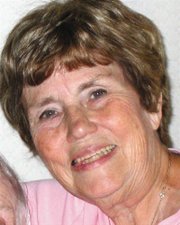 Springtime has always been a season of renewal and a celebration of new life, with baby lambs romping in fields and birds building nests for their little families. Springtime brings us St. Patrick's Day celebrations — where everybody is Irish for just one day — and corned beef, cabbage and songs to sing around the piano. Easter brings us hope, joy and the promises of renewal of mind and spirit. Springtime is happy and good for young and old and everyone in between.
—
What doesn't belong in springtime — or any other time of year — is meanness and hatred. It seems there is an abundance of nastiness and bad behavior that continues to crop up nearly everywhere. Fraternity brothers are singing racist songs that are going viral on the Internet; some church leaders are screaming hatred from their pulpits; people are shooting at each other and targeting law enforcement officers; politicians are saying hateful things about each other; people are talking about "taking our country back." The words and actions seem to be escalating faster every day.
People with income from trust funds complain about "lazy people" who use food stamps to feed their families. (Full disclosure here: Members of my family represent every race, religion, ethnic, and socioeconomic group. An insult to one is an insult to somebody I love. I love my country and believe our nation is strong and true.) I think that's pretty representative of most of us. When hateful slurs are made, people are hurt, and nothing good comes from any of it.

The anonymity of the Internet has given everyone the chance to scream, yell and carry on, and it's probably healthy to get it all said to those who are in agreement with what we have to say. After all, we do have First Amendment rights. What's so sad and mean is to hear vicious words said in the presence of children or others for no other purpose than to be hateful and hurtful. Wouldn't it be great to make springtime resolutions — to really think about others who are different — and not criticize those who aren't like us. We can all do better.
—
The recent change to daylight saving time is a reminder to check your home smoke alarms. If you haven't checked your smoke detectors lately, Polk County Fire District No. 1 members can stop by your residence to change batteries and check your alarm to be sure it is working properly. Call 503-838-1510 during regular business hours for more information.

—
See you Thursday for soup and pie at the Monmouth Senior Center, 180 S. Warren St. Doors open at 11 a.m., and variety of soups and pie will be served. Cost is a suggested donation of $3 per bowl of soup and $2 per slice of pie. It's a wonderful way to celebrate springtime in MI Town.