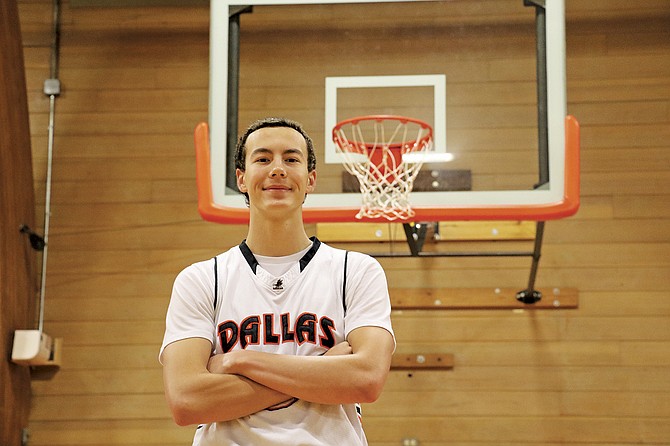 DALLAS — It's easy to think Dallas junior Everett Minahan has always been confident on the basketball court.
As the Dragons' starting point guard, Minahan directed the team's offense and helped guide the squad to a trip to the first round of the OSAA Class 5A state playoffs.
But it wasn't always that way. Minahan's evolution into a leader this season made him the Itemizer-Observer's 2014-15 boys basketball Player of the Year.
"Everett's tenacity and drive set him apart," Dallas coach Trent Schwartz said. "I have never had a baskeball player put in the extra work he did on his own volition before and after practice."
Minahan's path on the court, however, hasn't always been easy.
Almost from the moment Minahan began playing basketball, he excelled.
"When I was in fifth grade, I played on a competitive team," Minahan said. "I was probably one of our best players and that just made it more fun."
As he grew older, something never quite clicked. He still enjoyed playing basketball, but he struggled to fully embrace his role as a point guard.
"I was pretty timid on the court," Minahan said. "I didn't want to mess up, so I played conservatively."
Minahan's fear of making mistakes led him to be wary of being more aggressive on offense. His progress on the court went slower than he anticipated.
After his freshman year, his frustration was at its peak.
"I didn't have much success my freshman year," Minahan said. "I didn't have the best work ethic or attitude. After that season, I was tentative about playing basketball again."
In the end, Minahan decided to return — and make a drastic change in the way he approached the game.
"I had been playing it for such a long time, I just thought there's no reason for me to quit," Minahan said. "I knew I could succeed, I just needed to work hard. I didn't want to play poorly anymore and I wanted to make a change."
His sophomore season saw the beginnings of those changes, practicing before school and staying after practices. The result was starting on junior varsity and playing in Dallas' 2013-14 play-in game against Liberty. But it wasn't until Minahan began his junior campaign that he got his first full taste of varsity basketball.
"In the play-in game, I really had nothing to lose because I was coming up from JV," Minahan said. "This season was tougher to start. I didn't really know what to expect for the season and it took me a couple of games to realize what varsity was going to be like."
But Minahan's timid play continued until coaches pulled him aside after the third game of the season.
"My coaches saw that I had that aggressive play in me," Minahan said. "After the Mountain View game (on Dec. 12), they told me that I can play with these kids. I just need to be aggressive with them."
At long last, Minahan took those words to heart. Minahan became aggressive, unafraid to drive to the hoop. Minahan was no longer the timid player.
One of the biggest changes to his game was easing away from his signature move: the floater.

"I wasn't as athletic so I couldn't get to the rim all the way," Minahan said. "So I just worked on the one-handed floater and made it a part of my game. I can get to the rim more easily now."
Minahan averaged a team-high 11 points and 2.1 assists per game. He also averaged 2.1 steals per game. Minahan earned first team all-conference honors for his performance.
But he's not satisfied with his effort on the court.
"I need to work on my jump shot and continue to gain confidence," Minahan said. "I need to work on really being a leader. Next year, I think I'll have to score a bit more than this year."
Minahan is no longer the shy, timid player he once was. Now, he's a driven leader who wants to do everything he can to help his team win.
"I want to succeed in the postseason," Minahan said. "That will make it so much more memorable. Our team will have a great work ethic and we can definitely do better."