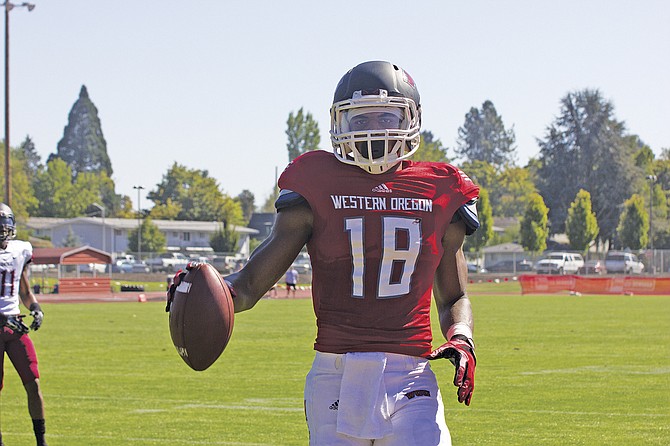 MONMOUTH — Western Oregon senior Tyrell Williams has always been a Philadelphia Eagles fan. If he has his way, his allegiance may soon change.
Williams hopes to join Kevin Boss among the names of WOU football players to make the leap to the NFL.
"Growing up, it's always been a dream of mine to play in the NFL," Williams said. "I always hoped I'd have a chance to play."
Williams may see his dreams realized.
Williams excelled after participating in Oregon State's pro day on March 13. The 6-foot-3 receiver ran a 4.42 second 40-yard dash; 39 1/2 inch vertical; 4.22 second shuttle drill; and a 10 foot, 7 inch broad jump.

Williams' highlight was the three cone drill, which tests agility. Williams finished in 6.55 seconds, which would have given him the top time at the NFL draft combine earlier this year.
"Coming in, I wanted to get the numbers I knew I was capable of putting up," Williams said. "I wanted to make sure I was catching all the balls thrown to me and to come out with confidence. I wanted to come out and have fun and not worry about what comes after."
Since his pro day, Williams has seen his draft stock rise significantly. The New England Patriots hosted Williams for a visit and several draft analyses have identified Williams as a sleeper pick and a potential mid-to late-round draft choice. Williams' agent said the Detroit Lions and San Diego Chargers have shown the most interest along with the Patriots.
"I've had quite a few calls from teams setting up workouts and stuff like that," Williams said. "My agent has been talking to teams as well. We'll keep going from here and see what happens."
Williams trained at Parabolic Performance in New Jersey in February to prepare for his pro day. Now, he's turning his attention toward impressing any team workouts he is invited to take part in.
"I'm preparing for whatever the scouts put me through," Williams said. "Hopefully, those workouts impress them to get more visits and interviews."
Williams' success has been the culmination of a strong career at WOU.
"At the start of my freshman year, I knew if I kept working and getting stronger, I'd possibly have a chance," Williams said. "I knew since I was tall, if I could gain weight, I'd have an opportunity. About my junior year, I started talking to scouts to get feedback on what to get better at during the offseason."
Williams had 56 receptions for 950 yards and eight touchdowns as a senior.
If he is drafted, Williams will become the first WOU player to be selected since former tight end Kevin Boss. Boss played from 2007-10, including winning Super Bowl XLII on Feb. 3, 2008, with the New York Giants. He was selected in the fifth round of the 2007 draft by the Giants.
As Williams continues to make his case for a chance to play in the NFL, he is optimistic about his chances as he experiences a part of a lifelong dream come true.

"This is still surreal," Williams said. "It doesn't feel real that this is going on. It's been awesome. Hopefully once draft day comes, good things happen."