'University night' set at Dallas High
DALLAS — The Oregon Public University Spring Tour will make a stop at Dallas High School on Tuesday at 7 p.m.
Representatives of all eight public universities in Oregon — Oregon State, Oregon, Portland State, Eastern Oregon, Western Oregon, Southern Oregon, OSU-Cascades and Oregon Institute of Technology — will be on hand. This is an opportunity for any college-bound student to hear about programs and schools in Oregon.
"University night" is open to students in all grades and parents. Students will hear a general presentation from all the universities in Bollman Auditorium, and then be able to attend small breakout sessions with at least two schools of their choice. There will be information to pick up and time for questions.
For more information: Dobie Long, Dallas High School counseling office, 503-831-1975.
Education forum planned Tuesday
WEST SALEM — Chemeketa Community College President Julie Huckestein and State Rep. Paul Evans of Monmouth will host an education forum Tuesday at 6 p.m. at the Chemeketa Eola Viticulture Center, 215 Doaks Ferry Road NW.
The forum is specifically designed for both Evans and Huckestein to have an opportunity to hear any concerns or needs of parents, teachers or those organizations who work with children in the community.
For more information: 503-986-1420.
Tickets for KVCS fundraiser on sale
KINGS VALLEY — Tickets are now on sale for Kings Valley Charter School's annual fundraiser, this year titled the Great Outdoors Dinner and Auction, scheduled May 2 at the Corvallis Elks Lodge.
Tickets cost $16.50 per person and can be purchased through Glenda Bush or Jennie Wilder at the Kings Valley Charter School main office, 38840 Kings Valley Highway, located between Dallas and Philomath.
For more information: 541-929-2134.
LaCreole educator receives honor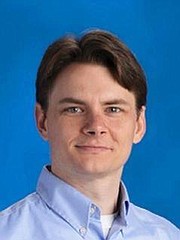 DALLAS — Blake Shinn, sixth-grade math teacher at LaCreole Middle School, was named Dallas School District's Distinguished Educator for March.
Kimberly Noack, a parent of one of Shinn's students and colleague at LaCreole, nominated him for the honor, which was presented on March 13.
"He believes that students and their learning should always come first," Noack said. "He is dedicated to current and former students, and willing to help all in gaining math skills."
Shinn's students noted: "He doesn't flip out if we don't get the answers right" and "He helps us understand problems."
The Distinguished Educator Program recognizes "excellence in teaching and learning" in Dallas School District schools.
Local pair earns COCC recognition
BEND — Two Polk County residents, Kelsey Ford of Rickreall and Cody Manzi of Monmouth, have qualified for inclusion on the 2014 fall term dean's list at Central Oregon Community College in Bend. The COCC dean's list is based on enrollment in 12 or more credit hours and a grade-point average of 3.60 or higher. Ford is a 2014 graduate of Perrydale High School, while Manzi is a 2013 graduate of Santiam Christian High School in Adair Village.