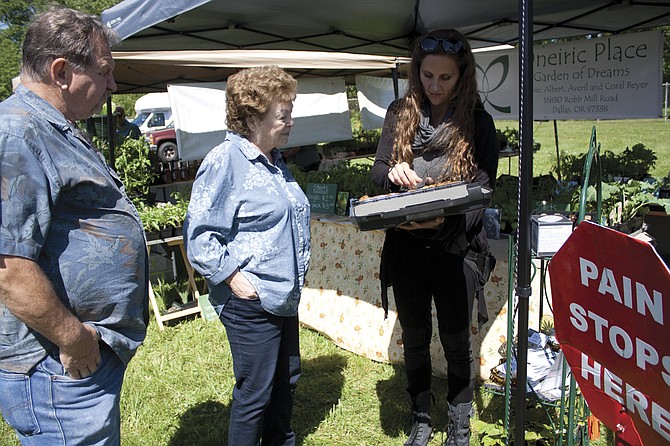 Rummage sale benefits Central High band
The Central High School band will hold a community rummage and vendor sale from 9 a.m. to 3 p.m. on Saturday.
All proceeds will support bend members going on an educational tour of New Orleans. Community members may rent a table to sell items, donate items for the band's portion of the sale, or shop on the day of the event.
For more information: Lisa Wittbrodt, lwittbrodt1@central.k12.or.us.
Weight Watchers meets at Talmadge
Weight Watchers meets at the Talmadge Middle School cafeteria from 3:30 to 4:30 p.m. on Mondays. Weigh-in is at 3:15.
School teachers are eligible for a reduced rate.
For more information: Cynthia Mathis, cmathis@central.k12.or.us.
Wine Down returns to Monmouth, Indy
Wine Down Downtown returns to Monmouth and Independence from 3 to 7 p.m. on Saturday. The event, sponsored by Oregon State University Enactus Club, will benefit Marion-Polk Food Share.
The goal of the event is to promote local commerce in the area, with a focus on arts and culture.
Tickets are $20 in advance or $25 on the day of the event, with $2 off with two or more nonperishable food donations.
For more information: http://www.eventbee.com/v/enactusosuwinedown/event?eid=119720971, or find the event on Facebook.
Dance recital will benefit food bank
The Polk County France School of Dance will hold its semiannual performance at 6 p.m. on Tuesday at Talmadge Middle School, 51 16th St., Independence.
Students aged 4 through teens will perform tap, ballet, pointe, lyrical and hip-hop routines.
Admission to the show is three cans of food or a $3 donation per person and per dancer.
All cash donations will benefit Joan Schmitt's children fund; food will benefit Dallas Food bank.
For more information: Linda France Martin, 503-390-3481 or online at www.fsodance.com.
Container garden class is Thursday
Youths of all ages may learn to grow vegetable container gardens at the Step up to 4-H class from 5:30 to 7:30 p.m. on Thursday at the Polk County Oregon State University Extension Office, 289 E. Ellendale Ave., Suite 301.
Cost is $8 for 4-H members and $10 for nonmembers.
For more information: 503-623-8395.
Time to sign up for August Jazz Camp
Registration is open for the annual Mel Brown Summer Jazz Camp, Aug. 2 to 8.
The mission of the camp is to improve each participant's performance skills and increase their knowledge and appreciation for jazz.
Participants perform in both large and small jazz ensembles and attend seminars that cover various topics including theory, history, improvisation, the music business and music technology.
Participants have direct access to many of Oregon's finest jazz performers and teachers.
For more information: www.melbrownjazz camp.com.
Dallas youth state finalist for pageant
Miella Welch, 9, of Dallas was selected as a state finalist in the National American Miss Oregon pageant, to be held May 23 in Portland.
Welch will participate in the junior pre-teen age division.
She is the daughter of Jill Welch and stepdaughter of Derek Hibbs. She is in fourth grade at Whitworth Elementary.
Welch's activities include volunteer work, art, dancing, writing stories and plays, and playing with friends.
The National American Miss pageants are dedicated to celebrating America's future leaders and equipping them with lifelong skills.
Learn defensive driving skills
An AARP defensive driving class is scheduled from 9 a.m. to 4 p.m. on Saturday at the Monmouth Senior Center, 180 S. Warren St., in Monmouth.
Cost for the class is $15 for AARP members; $20 for nonmembers. Bring a sack lunch for the 30-minute break. Insurance companies are now required to give a discount for having attended this class.
Reservations are requested by calling 503-838-5678.
Community fiesta at WOU on Friday
Western Oregon University's Multicultural Student Union will sponsor the Nuestra Fiesta Latina all day Friday at Werner University Center.
The event will include activities for all ages. Entertainment will include mariachi music, salsa and merengue dancing, traditional foods and a "baile" to end the day.
The event strives to bring together people from the community and campus to celebrate and experience the Latino culture.
Genealogy seminar at Polk museum
The Polk County Museum will host a presentation by Wayne Dykstra on genealogy.
Dykstra will share what he has learned about the basics of genealogy research and some cost-cutting tricks and clues that will be useful to both the beginner and the more advanced genealogist.
The program will begin at 1:30 p.m. on Saturday at the Polk County Museum, 560 S. Pacific Highway (99W) in Rickreall. It is free, and refreshments will be available.
For more information: 503-9623-6251 or polkcountyhistoricalsociety.org.
Hiratsuka guest artist at gallery
The River Art Gallery will host an exhibition from Yuji Hiratsuka in the gallery through June 4. The work is titled "Transcribing the Human Form."
For more information: rivergalleryart.com or call 503-838-6171.
Dallas Lions Club sale is Friday-Saturday
The Dallas Lions Club will hold a garage sale Friday and Saturday. The sale will be held at 439 SE Clay St in Dallas and run from 8 a.m. to 8 p.m. Friday and 8 a.m. to 2 p.m. Saturday.
Proceeds from the sale go directly into service projects. The Lions Club is also collecting used eyeglasses and hearing aids.
To donate or for more information: Susan Gartland, 503-302-3848.
Tour historic Independence
The Independence Historic Preservation Commission will host a tour of historic buildings in Independence from 11 a.m. to 2 p.m. on Saturday.
Participants may hear stories about the buildings' past and their past owners.
The Three Legged Dog Public House tour ends at 12:30 p.m.
Other locations on the tour are Main Street Antiques, Heritage Museum and The Davidson House.
The list of tour locations may be picked up at the Independence Public Library, 175 Monmouth St., Independence. The tour is free.
Walking tour brochures are available at www.ci.independence.or.us.
Piano concert is Sunday at EBC
Renowned concert pianist Pastor Sam Rotman will perform Sunday at 6 p.m. at Evangelical Bible Church in Dallas. Included in his presentation will be works of Beethoven, which Rotman has devoted a specific area of his musical life to the performance and study of Beethoven. He is a committed Christian and will share how God has worked in his life through Jesus Christ.
Rotman has given more than 2,700 performance around the world in 60 different countries. He received his bachelor's and master's of music degrees from Juilliard School of Performing Arts in New York City. Rotman has been the recipient of several prestigious awards including being the Laureate Winner in the Fourth International Beethoven Competition in Vienna, Austria. At Mercyhurst University's D'Angelo School of Music in Erie, Pa., he was the director of the piano department for 20 years and then served as executive director of the School of Music for 10 years.
Evangelical Bible Church is at 1175 SE Howe St., in Dallas
Wear your bonnet at DSC breakfast
"Grab Your Bonnet" and enjoy breakfast on Saturday from 8:30 to 11 a.m. at the Dallas Senior Center. Bonnet wearers have the chance to win prizes for the finest and most creative bonnets.
Breakfast includes hash brown casserole, muffins, fruit, and biscuits and gravy. The cost is $6 person.
The center is located at 955 SE Jefferson St.
PC Fair looking for superintendents
Superintendents are needed to be part of the 2015 Polk County Fair, Aug. 6-8 at the Polk County Fairgrounds and Event Center in Rickreall.
Departments in need of superintendents include open class textiles, foods, crafts, fine arts, poetry, photography, grains and horticulture. Also needed are superintendents for swine, rabbits, poultry, sheep, horses, goats, and cattle (beef and dairy).
Applicants for the positions must be 16 years or older and have knowledge of the area applied for.
For more information: Tina Andersen, 503-623-3048.
Heart to Heart host Master's Men
The Master's Men, a male a cappella ensemble, will be singing gospel music on Sunday at 6 p.m. at Heart to Heart Church in Monmouth. The community is invited to enjoy a fun-filled evening of musical praise followed by refreshments. A free-will offering be received.
For more information: Annita at 503-838-4742 or Lisa at 503-837-0541.
More like this story