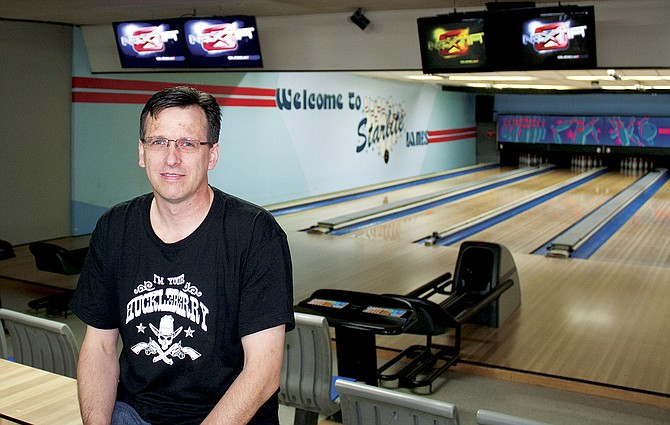 DALLAS — Before taking over Starlite Lanes in Dallas, Mike Reed had done every job there is to do in a bowling alley — except own one.
Now he can cross that off his list.
"I've always wanted my own place," Reed said.
Reed got his start working in or for bowling alleys, coincidently, at Starlite Lanes.
"I started out as a pin chaser in high school," he said.
After Starlite Lanes, he's worked in bowling alleys in Silverton, Wilsonville and Alaska.
"I worked in (an) eight-lane bowling center in Alaska," Reed said, smiling. "I couldn't get away from it."
Including jobs in which he installed lanes and equipment in bowling alleys, Reed counts about 30 years of experience in the industry. There's not much he hasn't encountered when it comes to running a bowling alley.
"And I'm not afraid to pull it (machines) apart if I don't know it," he said. "That's the way I've always been."
It seems natural that eventually, he would own one, and it turns out, his return to Starlite was timed perfectly.
"I know Loren (Faxon) and Loren knows me," Reed said, referring to the former owner. "It was a little negotiation and it worked out."
Since officially taking the reins late last year, Reed has hired more employees and made some repairs to machines. He's made a few changes to the hours and schedule as well — including adding "cosmic" karaoke to the lineup.
Now Reed is focusing on building the customer base and expanding the alley's leagues. Starlite is also participating in the Kids Bowl Free program this summer, which offers two free games per day in an effort to encourage children to be more active.
"I would like to see our junior league grow," Reed said. "They are our future."
Success with last year's Dallas High School bowling team bodes well for that future.
The team placed at the state competition, and Reed is hoping to have team members return for next season.
"Loren came in and helped them," Reed said. "Pretty good, talented group of kids."
Reed said there will be more changes over time, including launching a website for Starlite.
In the meantime, though, he's hoping to make a few more converts to the game he's grown to love.
"It's just the fact that you're always participating, you're not sitting on the bench or waiting to play," Reed said. "It's something that you get to do from (the age of 6) until you die."
Bowl a game
What: Starlite Lanes.
Where: 394 Main St., Dallas.
Hours: 10 a.m. to 10 p.m. Sunday through Thursday and 10 a.m. to 11 p.m. Friday and Saturday.
Contact: 503-623-4267, or on Facebook, www.facebook.com/starlitelanes.
Of note: For more information or to register for the Kid Bowl Free program, go to kidsbowlfree.com.