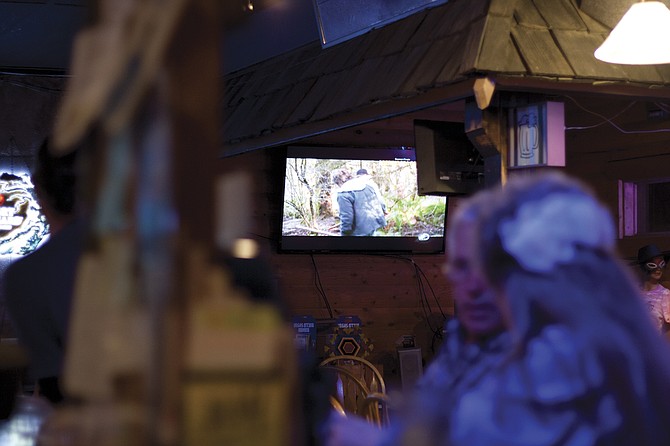 FALLS CITY — For just a brief moment, Lori Jean Sickles, the owner of The Boondocks in Falls City, was on television.
"I missed it!" Sickles said of her short "cameo" on Discovery Channel's "Unearthed," which was filmed in and around Falls City.
Friday night, the bar was showing the second episode of the reality show about competitive professional truffle hunters who live in the area.
Spending much of the evening in the kitchen, Sickles walked up front just seconds after her "scene" in the episode.
That segment of the episode followed "Unearthed" hunter Richie Maxfield into The Boondocks to conduct a transaction.
Friday's showing drew a few people to The Boondocks to watch the second installment of the five-part series. The more dramatic parts, complete with intense music, produced some skeptical reactions from viewers, but for the most part people were happy to see Falls City get the attention.
"It doesn't seem like it's all that realistic, but it's pretty cool," said The Boondocks bartender Gil Markel.
Markel said he knows Ty Hale, Levy Schwartzendruber and Maxfield, three of the truffle hunters featured on the show, and said they are pretty serious about their trade, as the show portrays.
"They do it all the time," he said.
He added even after just one episode, people are asking questions about black truffle hunting

"(People are) asking if you really can find them out here," he said.
Sickles said it appears Discovery may have "enhanced" some of the personalities of the six men the show follows, but not too much.
"I know most of the guys, and that's basically how they are," she said.
Sickles said she's excited about the show and has been telling as many people as possible about it.
"I think it will be great for the city," she said. "Even if it makes us look goofy, people will still want to come out here. I'm thrilled about it."
Falls City resident Amy Houghtaling — who was trying her best to ignore the episode so she could watch it with her family later — said the film crew was the talk of the town last fall when the majority of the show was filmed.
Discovery and producer Zodiak NYC kept a pretty tight lid on details, however, until recently.
"It was a 'top secret show,'" she said.
Houghtaling said she agrees with Sickles about what the show will do for the community.
"I think any exposure for Falls City is good," she said.
Truffle hunting stories
What: Discovery Channel's "Unearthed."
When: Fridays at 10 p.m.
Of note: The Boondocks in Falls City, 318 N. Main St., will be showing "Unearthed" each Friday night at 9 p.m.