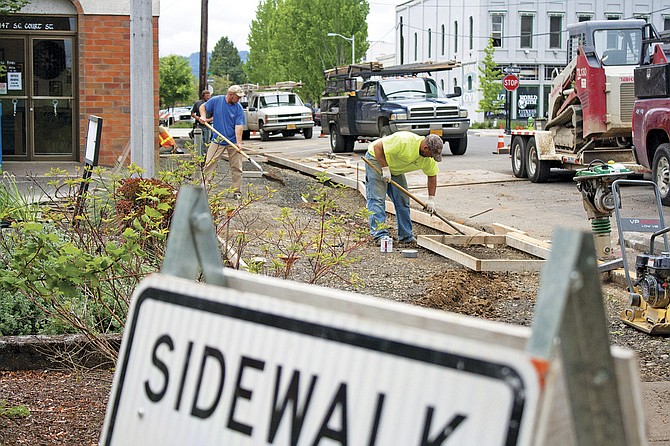 Free container collection Friday
Residents of Polk County may dispose of clean, dirt and residue free triple-rinsed plastic containers for free from 8 a.m. to 2 p.m. on Friday at Polk County Public Works, 820 SW Ash St., Dallas.
All size containers up to 55-gallon capacity plastic drums will be accepted. Containers need to be made from high-density polyethylene and be embossed with the recycling symbol.
For more information: Clare Sullivan at Oregon State University Extension, 541-730-3537.
Ristau reads from new novel May 27
The Western Oregon University's English Department will host young adult author and former WOU faculty member Kate Ristau from 4 to 6 p.m. on May 27 at Hamersly Library Room 107, at WOU.
Ristau will read from her newly released novel "Shadowgirl."
The book is about a girl trying to solve the mystery of her mother's murder, but also a tale about a brewing war in the fairylands.
The event is free and open to the public.
For more information: kateristau@gmail.com.
Wash your car, and benefit PC Relay
The American Cancer Society Relay for Life of Polk County teams are hosting fundraisers now through the event, May 30-31 at LaCreole Middle School, in Dallas.
On Saturday, the Relay team from Elkay Wood Products Company will host a car wash at Les Schwab in Dallas.
Donations will be accepted for the service, but members of the team are looking to wash as many cars as possible, because some promised donations will be collected based on number of cars washed.
For more information or to make a donation: William.scott@elkay.com.
Fractal art at the Bread Board
Falls City's The Bread Board is featuring 3-D fractal art by Paul Griffitts, former Dallas resident and 1970 graduate of Dallas High School. He now makes his home in Portland.
It's only been possible to create fractals in three dimensions since 2009, and this medium represents the cutting edge of mathematics, technology and art.
Griffitts' creations have won recognition both nationally and internationally at juried shows and online exhibitions. His works have been featured in Computer Graphics and Applications magazine.
The Bread Board is open on Fridays and Saturdays from 10 a.m. to 4 p.m.
For more information or to see Griffitts' work, go to frackxion.com.
Yeast breads class set for May 30
The Polk County 4-H/Extension Office will host a yeast breads STEP CLASS May 30 from 9:30 a.m. to 2 p.m.
Participants will learn about yeast and gluten and how it impacts raised bread products. Attendees will make a batch of rolls and a small loaf of yeast and artisan bread.
The class is open to anyone ages 9 and older. Cost is $10 for 4-H members and $12 for nonmembers.
Preregister by Wednesday (May 27).
The extension office is located at 289 E. Ellendale, Suite 301, Dallas.
For more information: 503-623-8395.
Library display to feature shells
The Dallas Public Library's monthly display for May features shells from Marici Reid, president of the Oregon Society of Conchologists, aka, Oregon Shell Club.
Reid's display contains clams; various nautilus shells; Oregon's official shell, the Oregon hairy triton; a spectacular horseshoe crab; and many more.
The shell club promotes the study and advancement of the sciences of conchology (shells) and malacology (mollusks), to give assistance and information to others interested in these subjects; and to promote and encourage the understanding of ecology and conservation.
For more information, contact Marici Reid at 503-837-0860.
County hazardous waste collection
Polk County residents are welcome to drop off household hazardous waste items at the Polk County Public Works shop, 820 Ash St., Dallas, from 9 a.m. to 2 p.m. Saturday.
Items that can be dropped off include aerosol cans, antifreeze, brake fluid, herbicides, household batteries, lighter fluid, mercury, paint, paint thinner, pesticides, pool chemicals, rust removers and more. Do not bring explosives, latex paint, or radioactive waste.
The event is free.
For more information, Jim Solvedt at 503-623-9237.
Left Coast Cellars hosts 'Sip & Stroll'
Left Coast Cellars in Rickreall will be hosting "Sip & Stroll" open house this weekend, inviting guests to stroll the vineyard while enjoying treats, and stop at the tasting room to sip wine and order lunch.
The event will offer opportunity for people to tour Left Coast's winery, wine cave, treehouse pavilion, warehouse and tasting room.
Sip & Stroll will take place Saturday 11 a.m. to 7 p.m. and Sunday and Monday at 11 a.m. to 5 p.m.
Left Coast Cellars is located at 4225 N. Pacific Highway (99W), Rickreall.
For more information: 503-831-4916.