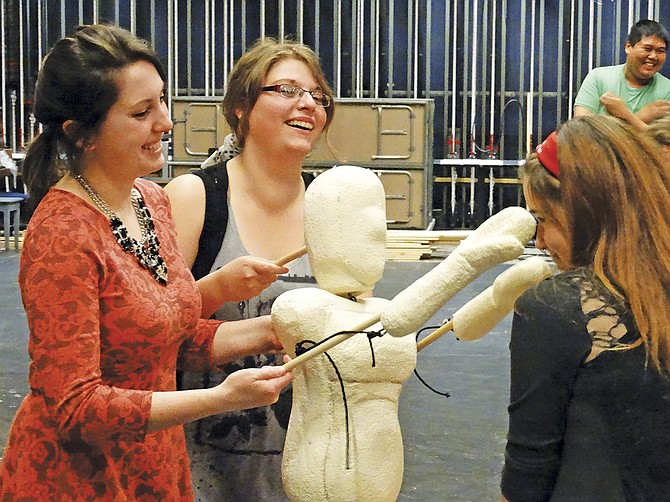 Martin, Ilg to retire from ACES
MONMOUTH — Sue Martin and Lori Ilg will celebrate retirement from 3:30 to 5 p.m. on Thursday at the Ash Creek Elementary School library.
Celebrate their lifelong commitment to the teaching profession by sharing stories, laughter and companionship. Refreshments will be served.
For more information: ACES, 503-606-9016.
KVCS students to raise money
KINGS VALLEY — Kings Valley Charter School's high school foreign language class is partnering with Zaycon Fresh to raise money for student trips to Italy and France in 2016.
Zaycon Fresh offers deliveries or pickup of fresh meats, including chicken, lean ground beef, hickory smoked bacon, pork sausage, frozen beef patties, breaded chicken strip fritters, frozen chicken drum sticks and more.
To sign up go to www.zayconfresh.com, put KVCS in the referral box and foreign language program will receive $10 for new customers and $1 on future orders.
For more information: tsprague@kvschool.org.
Willis earns Rotary scholarship
INDEPENDENCE — Michael Willis, a graduating senior at Central High School from Independence, has been named the winner of the 2015 Monmouth-Independence Rotary Club's scholarship. Willis is one of 17 students who applied for the $1,000 award.
Willis has been a member of the Academic All-Stars and the Competitive Math Team at Central as well as a leader in the United Nations and the Rotary Interact clubs.
He has assisted with the YMCA Nite Court and the Hop & Heritage Festival, as well as working on the Ford Family Pathways Committee. Willis also recently after graduated from Polk County's Search and Rescue Academy.
Willis plans to major in English at Portland State University.
The Rotary Scholarship, which has been offered for many years by the local Rotary Club, is awarded annually to a student who has excelled academically, demonstrated leadership among peers, and has provided volunteer service in the community.
IES kids raise money for upgrades
INDEPENDENCE — Students in Brian Ross' fourth-grade class at Independence Elementary School are raising money to buy Boogie Boards for the school.
The students, Teo, Jake, Peyton and Maritza, said their goal is to raise $700 to buy 35 boards, which will replace the personal white boards used in class now.
Boogie Boards are not white boards, the students said, but rather technological devices that help them take notes and do math problems.
To donate or for more information: IES front office, 503-838-0030.
Lindley to graduate from Willamette
SALEM — Quinn Lindley a 2011 Central High School graduate will graduate from Willamette University with a Bachelor of Arts majoring in politics. Quinn was a member of the cross-country and track team all four years at Willamette.

He also interned for the Drug Enforcement Administration and the Oregon Legislature for Senator Chuck Thompson. Quinn plans to seek employment with the Federal government after graduation.
Local students make Eastern Oregon dean's list
POLK COUNTY -- Tiffany Mercier of Grand Ronde and Crystal Good of Independence both made the dean's list at Eastern Oregon University for winter term 2015, part of 528 students who made the list.
Qualifying students achieve and maintain a grade point average of 3.5 or higher on a 4.0 scale while completing a minimum of 12 hours of graded coursework for the duration of the term.
Two Dallas High students receive DVFA scholarships
DALLAS – The Dallas Volunteer Firefighters Association has awarded the Harpy Bovard Scholarship to two Dallas High School seniors.
Scholarship winner Isabella Nelson will attend Northwest Christian University in Eugene in the fall and major in biology and then plans to attend medical school. The second recipient, Asheley Crabtree, will be attending George Fox University in Newberg where she will major in accounting. Both will receive $1,000 toward college expenses.
More than two dozen students applied for the scholarship which honors longtime volunteer firefighter Harpy Bovard. The Bovard Scholarship Committee evaluates each applicant on academics, community service, leadership and finalists meet with an interview panel made up of fire department and community members.
Perrydale teacher named OASC adviser of the year
PERRYDALE — The Oregon Association of Student Councils has named Perrydale teacher and leadership adviser Linda Romey as the Oregon high school activities adviser of the year.
Romey was nominated for the award by one of her students, Haley Smith, a leadership student at Perrydale. "She is the strongest person you will ever meet. When I was in eighth grade, she was diagnosed with breast cancer but that didn't stop her," Smith wrote in her nomination letter. "Some weeks we will be at school six days a week working and doing leadership activities and when she gets tired and run down, she says we are her inspiration. It's just the opposite — she is the one inspiring us!"

Each year, OASC recognizes an outstanding adviser who embodies the ideals of the organization with the Warren E. Shull Adviser of the Year Award. Romey was recognized at the 2015 OASC Spring Conference.