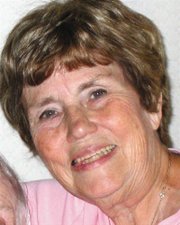 All of the goblins and ghosties and superheroes have vanished from MI Town's streets and sidewalks for another year, and those of us who have leftover Halloween candy are sneaking occasional trips to the pantry when nobody is watching to finish off what's left. Parents and teachers are hopeful that the kids have all come down from their sugar highs, and that all is back to normal.
—
What fun it was for kids of all ages to trick-or-treat in MI Town last Friday, with lots of goodies in both libraries as well as visits to our local merchants and businesses. Halloween is so much fun when just about everyone in the area participates, and it gives us an opportunity to shop locally while we're out and about. Polk County CERT (community emergency response team) volunteers set up trick-or-treat safety zones on Halloween night in various areas of MI Town, including Main Street Park in Monmouth and Farnstrom's, and Ash Creek Mobile Park in Independence. This is a group effort with police officers in both cities, as well as Polk County Fire District No. 1's firefighters. How fortunate we all are to live in these wonderful communities.
—
Get a good start on Saturday's activities and mark your calendars for the Monmouth Senior Center's community breakfast. Prices are right ($6 for adults, $3 for children 6-12) and portions are generous (as in all-you-can-eat). What could be more fun later in the afternoon than to watch our WOU Wolves football team as they meet the South Dakota School of Mines and Technology at 3:30 p.m. at McArthur Stadium. Special recognition will be given to our Armed Forces as well as First Responder Appreciation Day.
—
Nov. 11 is celebrated as Veteran's Day. Originally called Armistice Day, marking the end of World War 1 (once called the war to end all wars), we now honor all veterans. The Disabled American Veterans (DMV), AmVets 1776 Ladies Auxiliary and Monmouth Senior Center are honoring all veterans and their families, as well as members of our communities, with a free breakfast at the center on Nov. 11 from 8:30 to 10:30 a.m. Raffle tickets will be sold for a chance to win an antique doll, with the proceeds going to the Wounded Warrior Project. Let's celebrate and honor those friends and family members who have served in our country's armed services as well as the men and women who are working hard to bring peace and freedom to places all over the world.
—
The New Horizons Willamette Valley Orchestra meets every Monday evening during the school year in the music room at Central High School, from 6:30 to 8:30. If you'd like to participate in this group, please stop by any Monday evening or contact Paul Doellinger at 503-838-4884 for more information.