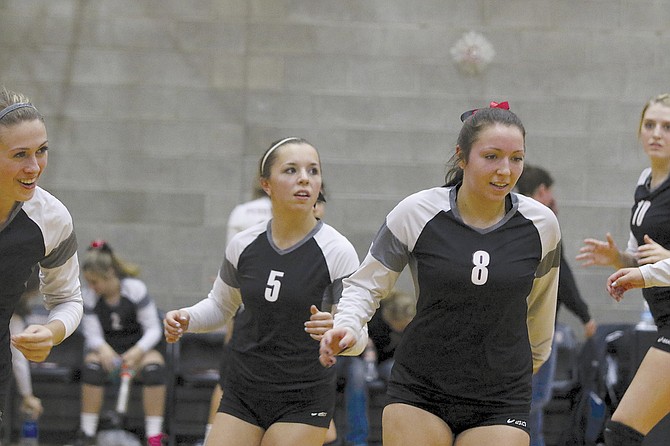 TROUTDALE — Perrydale hopes the fourth time is the charm in the quarterfinals of the state volleyball playoffs.
The Pirates defeated North Clackamas Christian 25-10, 25-16, 25-15 on Oct. 28 in the first round and Damascus Christian 25-21, 25-12, 25-13 on Saturday in the second round of the 1A state playoffs.
Perrydale is set to play top seeded Country Christian Friday at 1:15 p.m. at Ridgeview High School in Redmond. The squads met three times during the regular season. Country Christian won each time.
"We know they serve hard and we know they hit well," Dickey said. "Every team has a weakness and makes mistakes. We try to build on that philosophy and have to see them as just another team. I want our girls to play hard and do the best we can."
The winner advances to the semifinal round at 8:30 p.m. Friday against the winner of Powder Valley vs. Trinity Lutheran.
The loser advances to the consolation bracket on Saturday.
"We know what we're up against," Dickey said. "It helps us practice this week. We can focus on their strengths and on our strengths versus their weaknesses. They have a few weak spots, but we can pick out what we can do to score points against them."
The Pirates know that Country Christian presents a difficult obstacle to overcome, but Dickey hopes her players enjoy the experience, no matter what the outcome.
"I want them to come out with a positive experience going to state," Dickey said. "For the seniors, they won't ever have this experience again. I want them to build strong memories and let them know that the hard work they started in August got them to where they're at. It pays off and wouldn't have come without their dedication or time spent in the gym. They're the ones who had to sacrifice the end of their summer and all the fun things they could be doing instead of coming to practice."