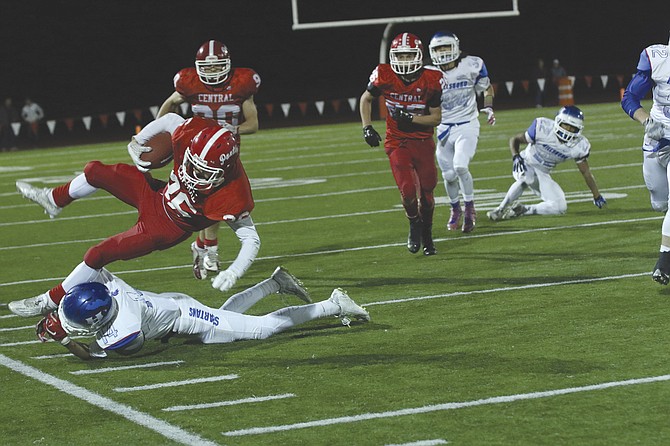 INDEPENDENCE — The Central football team had just one word ringing through the sidelines throughout the 2015 season: Finish.
"Man, my expectation was just to win," running back Alvin Berroa said. "I don't care how big of a game I had or what my statistics are. I just want to want to win. I think we're a great football team and we deserve it."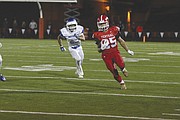 The Panthers (7-3 overall, 5-2 Mid-Willamette Conference) did just that with a 46-28 win over Hillsboro in the first round of the state playoffs on Friday.
"This is a big win," senior defensive lineman Opeti Tuipulotu said. "We're getting into the quarterfinals of the 5A playoffs for the first time. We have momentum."
The Spartans jumped out to a 7-0 lead, but Central responded with 40 unanswered points.
"We just had to play a little faster and smarter and get our head in the game," Tuipulotu said.
Berroa rushed for 186 yards and two touchdowns, while quarterback Peter Mendazona threw for 238 yards and three touchdowns. Marlon and Opeti Tuipulotu, Luis Amador and Madison Stepp each recorded a sack on defense.
Two of Central's losses this season came after blowing double-digit, second-half leads and the Panthers were eliminated in the first round of the 2014 state playoffs after holding a lead in the second half.
"The coaches did a really good job breaking down Hillsboro," Central coach Shane Hedrick said. "The players took what we saw in practice and executed it on the game field. Offensively, we were dialed in and took advantage of some areas. We played well overall."
But the Panthers' will to finish was tested.
Trailing 40-7, Hillsboro scored 21 unanswered points to pull within 40-28 entering the final period.
The Panthers refused to cave in, holding the Spartans scoreless the rest of the way.
"It was huge," Berroa said. "Honestly, this feels really good. We had a tough loss last year in the playoffs and we came back and won this year. I love it."
The Panthers advanced to the quarterfinals round and will play at Crater on Friday.
Crater is 10-0 overall, including a 57-34 victory over Dallas on Sept. 4, a 41-37 win over Mountain View on Sept. 18 and a 45-0 win over Silverton on Friday.
Central defeated Dallas 8-0, Mountain View 42-21 and Silverton 35-21.
"They're a seasoned football team," Hedrick said. "John Beck coaches a very aggressive football style. They play to the whistle and fundamentally sound. Obviously, that's why they're undefeated coming into this game. ... They've got a good, stocky quarterback, a solid running back and will show multiple sets against us."
While Crater presents a big challenge for Central to overcome, the Panthers won't be intimidated by the matchup. Instead, players are excited to have the chance to keep playing and finish their fight.
"We just tell ourselves to keep our heads up and fight through adversity," Opeti Tuipulotu said. "That's the game right there. You just have to keep fighting."