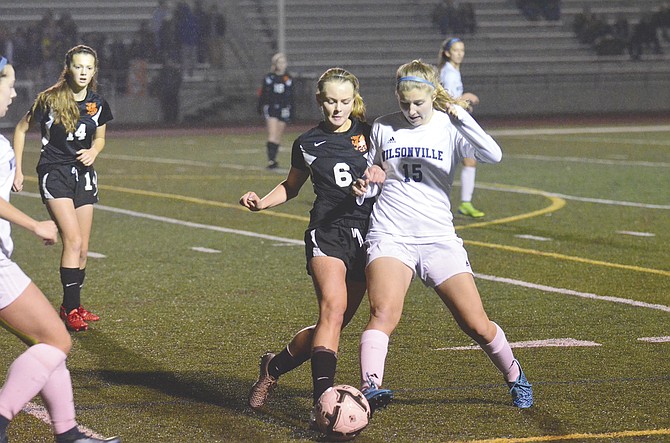 WILSONVILLE — Dallas' girls soccer team's historic season came to an end. The Dragons lost to Wilsonville 6-0 in the first round of the state playoffs. While it marked the end to the season, players weren't hanging their heads.
"It was an awesome time," senior Sarah Ussery said. "Just being able to play that game was an honor."
Dallas qualified for the state playoffs for the first time in school history after defeating Springfield 3-0 in the play-in round on Oct. 30.
In the first round of the state playoffs against Wilsonville on Nov. 4, the Dragons saw what it would take for them to advance.
"I think it was good for us to get a taste of what the state playoffs are like," Dallas coach Kirk Myrold said. "It was good to see the atmosphere and having a game that was an all or nothing game and the buildup to it. The excitement the girls, the families, the school and the community had, that's what we want to have again next year and for more years to come."
The Dragons' success this season surprised some, even among the team's players.
"I certainly wasn't expecting the turnout that we had," Ussery said. "I'm grateful for that. I knew we had a lot of potential, but I didn't know how far we could make it."
Late in the regular season, Myrold said the team elevated its play, as Dallas (5-10-1 overall, 3-3-1 Mid-Willamette Conference) set a new precedent for success for the school's girls soccer program.
"As a squad, it just kind of clicked," Myrold said. "We figured out how we wanted to play and how we were going to play. The girls played with and for each other."
Now, players are already excited about staying in shape for next school year — and for at least one returning player, she's not afraid to set the bar even higher.
"I think we'll improve because we just made school history being the first team to get to the playoffs," junior goalkeeper Ashlee Lichtenberger said. "Our goal is to have a home playoff game next year. We'll become better."