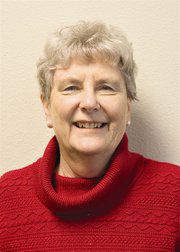 The Pedee Women's Club has its candy made and the women lined up to bring soup and pies to serve at its holiday fair this Saturday, from 9 a.m. to 4 p.m. They usually have over 30 kinds of soup and as many kinds of pie for purchase for lunch, but do run out from time to time, so don't wait till too long after 1 to get here. Candy, baked goods, and crafts will be there till the end, though.
—
Daniel and Heidi Russell and their six kids spent time at a house in Newport with James and Jenny Mellein, their two kids Leo and Annika and Jenny's parents, Beldon and Barbie Hedgpeth of Wren. Heidi's parents and neighbors Nic, Cassandra, and Josh Heller joined them on Saturday. They had a grand time playing in the ocean at the beach and playing hide and go seek at night with the house all dark. Daniel did get his deer last week before going.
—
The seniors at Kings Valley Charter School are planning to practice the business skills they've been learning this year by opening a coffee shop on Saturdays from 10 a.m. to 2 p.m. at the old Kings Valley church building on Highway 223 just north of the school. They will also serve soup and sandwiches. The shop will open the Saturday after Thanksgiving and will include a clothing closet and food pantry. They would like to have a few vendors in the building as well. If you are interested in having a table there at that time or have items that the students can sell for you, please contact Diana Barnhart at school, 541-929-2134, ext. 105.
—
Judy Guida's childhood friend Theresa Erickson came from Eagle Point to visit her for several days. Her daughter Sarah, who is Judy's goddaughter, is a nurse at OHSU and came down while Theresa was there. She and Judy went horseback riding together, which was very fun.
—
I'm sure you heard that Sgt. Mark Garton will be interim sheriff since Sheriff Bob Wolfe will be retiring on Nov. 30, but what the paper failed to mention is that he grew up in Pedee (What were they thinking?). His parents are Alan and Sue Garton who still live here. Garton will be running for sheriff in the next election.