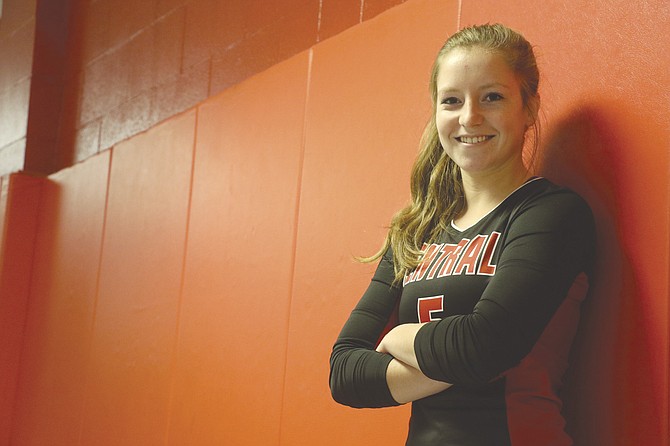 INDEPENDENCE — From the volleyball court to the softball field, senior Kylie Nash is at home when the pressure is on.
"I like to be in the action," Nash said. "I like to get my hands on the ball when I can. I need a lot going on all the time."
As a setter for Central's volleyball team, Nash played an integral role in setting up her teammates on the court. The four-year varsity player had 494 assists, 130 digs and 36 aces to lead the Panthers.
She helped Central reach the first round of the OSAA state playoffs, while earning first team all-Mid-Willamette Conference honors in the process.
Her leadership on the court is why Nash earned the Itemizer-Observer's All-Region Volleyball Player of the Year for 2015.
Nash's journey into athletics started long before she became a Panther.
One of the boys
From a young age, Nash was always one to mix it up on the field of play.
Nash joined her older brother, Trevor, playing boys basketball and baseball until the age of 12.
"I always looked up to (Trevor)," Nash said. "I was competitive with him. I was always playing against my brother and it pushed me to be better. Naturally, seeing him in the boys scene made me want to be in the boys scene. They were more my type of sports and I gravitated toward that."
That experience presented a chance to become a better athlete.
"It helped me build mental toughness," Nash said.
It was during this time that Nash fell in love with a fall sport — but not the one she would wind up playing in high school.
"Oddly enough, soccer was my favorite sport," Nash said.
As she got older, Nash craved something new.
"It became too boring," she said. "From the transition from fifth grade and playing CYS and going to do middle school ball, it was too slow for me."
During her seventh-grade year, Nash decided to try a sport she never had before — volleyball.
"My older sister tried it in PE and I thought it was really fun," Nash said. "Yeah, (playing soccer) was over. Not once did I think, 'I wish I was on the soccer field.'"
Becoming a leader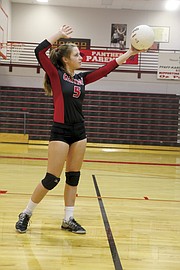 Once Nash made the transition to volleyball, she quickly learned the basics, but volleyball presented a whole new challenge.

"Volleyball was probably the toughest to learn," Nash said. "There's a lot of mechanics to it. I started it later than the other sports I play. I had to learn more things in a shorter period of time, but I enjoy the game and it really helped me appreciate the sport."
As she mastered the physical aspect, the mental part proved more difficult.
"A big part of the game is momentum," Nash said. "I had to work on that. I used to be pretty tough on myself. When I was younger, I would hold on to mistakes. I told people it makes me play better, but sometimes it doesn't, and if I held onto it, it would hinder my ability."
During her junior season, the Panthers struggled to find victories, missing the postseason.
Nash didn't let that experience weigh her down.
"It helped me with my leadership," Nash said. "It was a tough season, but I was able to take more of a leadership role. I understood the game more and was able to teach it. I brought that into the season."
During her senior year, Nash not only provided passes to her teammates, she was a leader, both vocally and through her play on the court.
More important than her stats on the court, she's learned to enjoy the memories she's made with her teammates.
"I was just talking about this with my dad that I'm never going to play another volleyball match," Nash said. "I wondered was there one practice I could have run harder or done some more weights? I would tell people to push yourself to the max and to treasure every moment. It goes quicker than you think."
Nash is considering playing basketball at the collegiate level, though she hasn't made a final decision as to where.
No matter what comes next, Nash knows one thing: she'll be ready to get herself into the middle of the action.