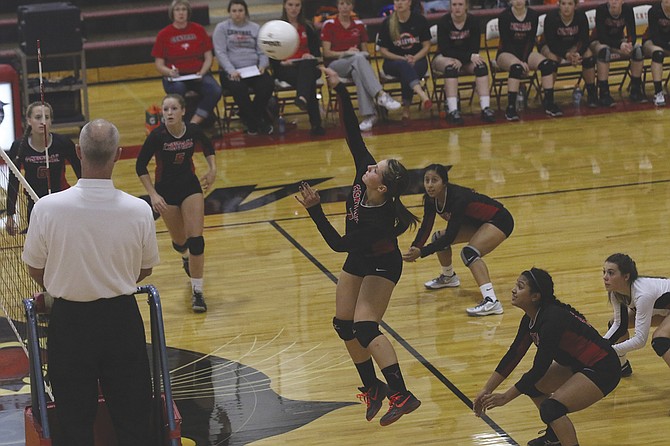 INDEPENDENCE — Growing up, Alex Dowdell always wanted to play a sport.
Living outside of town on a farm, she spent much of her time caring for horses.
The distance away from school and the time needed to care for her horses prevented her from realizing her athletic ambitions.

Prior to her eighth-grade year, circumstances changed, and Dowdell would get her chance.
"We moved into (Independence)," Dowdell said. "Transportation was a lot easier and volleyball seemed like an easy enough sport to get into. I just wanted to play a sport and I found out I was pretty good at it."
She quickly found her role as an outside hitter. Despite not having traditional athletic experience, training horses gave her all the physical preparation she needed.
"Handling horses, you need strength," Dowdell said. "Physically I was ready for sports."
As she began her high school career, her greatest obstacle has been herself.
"Mentally, I was worried about what was going on," Dowdell said.
The junior has all the physical tools necessary to succeed. The question is whether her confidence can match her ability.
"When I have two other good hitters by me, I get a little self-conscious and don't perform as well," Dowdell said.
Central coach Claudine Mendazona said it's an issue they've been working to overcome, and it's fueled Dowdell to improve her game in all facets. That's lead to a breakthrough season for Dowdell.
"Alex is a very hard worker," Mendazona said. "She puts in the time to improve her game. Her hitting is getting more consistent. We have been stronger in executing our offense and she is leading our team in kills. Alex is also one of the top four servers, with over 90 percent. … She's a competitor."
Dowdell had perhaps her best match of the season against Corvallis on Sept. 24, when she recorded 26 kills and 21 digs during the five-set victory over the Mid-Willamette Conference's second place team.

Now, Dowdell hopes that match shows her that she belongs on the court alongside any player in the league.
Her success isn't enough for Dowdell, or her teammates.
The Panthers began the second half of league play last week, and Mendazona knows its biggest problem is the same as Dowdell's: confidence.
"It's important to stay positive," Dowdell said. "If someone makes a mistake, sometimes we shut down a little bit. We want to have everyone cheering each other on."
The Panthers have been a work in progress this season, but Dowdell sees everything coming together.
"Our offense is getting better as we practice more," she said. "Everyone is working on getting a good pass and quicker sets so the other team isn't ready for it."