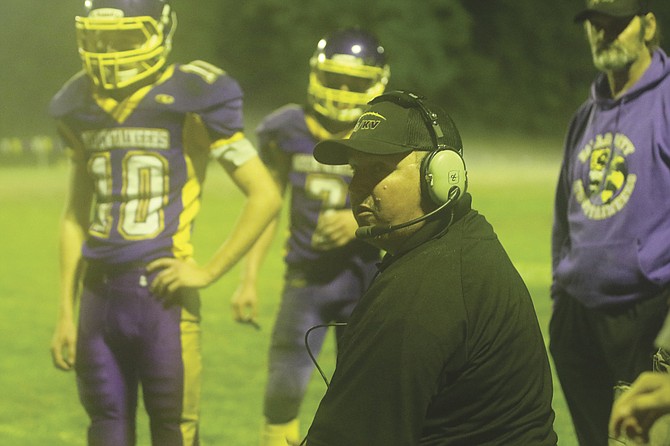 FALLS CITY — Falls City football coach Laric Cook isn't used to having to wait.
During his tenure as head coach at Mohawk, Cook won his first of two state titles in 2005, just two years after taking over the program in 2003.
"It just seems I've had early success everywhere I've been before," Cook said.
Since becoming the Mountaineers' coach in 2014, Cook has made it his mission to change the culture around the football program. Now, he's finding out that task will have to be taken one step at a time.

—
Cook knew Falls City presented a different challenge than any of his previous stops, including a smaller team, and a different attitude from players.
Last year, Cook began implementing his plan, including weight room workouts and more.
The Mountaineers opened the season with a 28-24 loss to Perrydale, a team that entered the week undefeated and has scored 36 or more points in each of its other games.
On Friday, Falls City (1-5 overall, 1-1 Special District 3) lost to Siletz Valley 36-32.
"We just fell a little short," Cook said. "When you're changing things around here, you're going to have that. I'm proud of the kids. They played their butts off and they get better every week."
Sophomore quarterback Jeremy Labrado is a big reason why Cook remains optimistic.
Labrado rushed for 128 yards and three touchdowns, while throwing for 150 yards.
Running back Zach Weems also ran for 72 yards and two touchdowns, but after building a 26-16 lead in the third quarter, Siletz Valley scored 20 unanswered points to lead 36-26 late in the fourth.
"We're not applying what we're doing in practices onto the field 100 percent," Cook said. "Maybe we're not quite lining up in the spacing that we show. If we execute and do what we're supposed to do, that's not a game. That's where we have to get to."
Breakdowns on defense allowed several big plays, including a touchdown on the last play of the first half and stalled offensive drives early in the fourth quarter.
"We're so close," Labrado said. "We just made a couple of mistakes here and there. I know we can do it. We have everything in place. The mistakes just kill us."
Perhaps more important than the strength conditioning is that Cook has lit a competitive fire in his players.
"Even when we're down, we come back and fight," Labrado said. "There's no doubt in my mind that we're going to give 100 percent and play every play like it's our last."
That attitude didn't exist a year ago, Cook said as he's stressed changing the team's thinking from expecting a loss to feeling like they belong on the field with anyone.
"We won't let them (give up)," Cook said. "We're going to compete from start to finish. They used to compare themselves to opponents. You can't do that. Everyone puts their britches on one leg at a time. Now, they're starting to compete from the start."
While the wins have yet to follow, opponents' perception of the Mountaineers is starting to change.
"It ain't no easy out against Falls City," Cook said. "Anyone we play will tell you."
That includes Siletz Valley senior defensive lineman Tyee Rilatos who addressed the Mountaineers during their team meeting after the game with a simple message: Falls City was among Siletz's toughest opponents.

"That speaks volume to have an opponent come up like that," Cook said. "That holds way more weight than from coaches."
In Cook's eyes, Falls City has made some important strides this season. Translating that to consistent success on game nights could be a longer journey than expected.
"This might be one of those later success stories," Cook said. "I hope not for these seniors and these kids in the program."