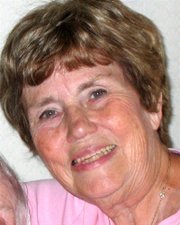 Where are all those leaves coming from? It seems like every day more and more leaves of many colors are falling from our neighborhood trees, and that means it's time to get out the lawn rakes and those big, brown containers (which fill up all too quickly in our house). Unless it's raining, my secret pleasure is to kick through the leaves on the sidewalks around MI Town, and especially on the WOU campus, while out on a walk. Autumn is such a beautiful time of year and so far this season, we are making a gentle transition from summer. Miss October can be a very fickle month, however, so it's good to prepare for just about anything.

—
In probably the most exciting football game we've seen in the 15 years at McArthur Stadium, our WOU Wolves won over previously unbeaten North Alabama 24-22 on Saturday. WOU meets Central Washington University this Saturday, at McArthur Stadium at 1 p.m. On Oct. 31, we'll celebrate Halloween on campus, and hope for more treats instead of tricks, when our Wolves will play Azusa State. Our local high school and college football games are wonderful events for family fun. We've so enjoyed watching the games over the years we have lived here.
—
The apple trees are abundant this year, and this means some of the best pie bakers in MI Town have been busy in their kitchens, as well as getting things organized at the senior center kitchen to put together some awesome soups. Tomorrow is the soup and pie sale at the Monmouth Senior Center. If you haven't attended this semi-annual occasion, you've missed out on the best homemade soups and pies in our neck of the woods. Hours are from 11 a.m. until 1:30 p.m. Crafter's Corner features interesting and unique items so you can shop before or after lunch.

—
With the chilly and sometimes rainy weather upon us, now is a great time to look through your bookshelves — and yes, see what's hiding in those closets and cabinets in the guest room — because the Friends of the Monmouth Library are looking for clean and gently used books for the ongoing book sale. Children's books are especially needed at this time. The Holiday Book Sale is scheduled for Dec. 1-22, during regular library hours. More information on the sale will follow during the next several weeks.
—
Many thanks to the Friends of the Monmouth and Independence libraries and the Independence and Monmouth Business associations for again sponsoring the upcoming Halloween Spooktacular on Oct. 30. This is a wonderful opportunity for all the local kids and families to celebrate — there will be cookies and candies and all kinds of treats for everyone.