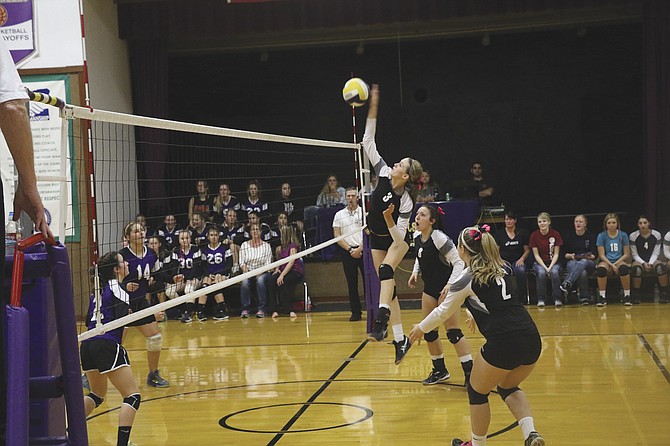 IONE — Perrydale's football team cruised to a 62-20 victory over Ione on Thursday to remain undefeated. The Pirates (6-0 overall, 4-0 Special District 4) led 56-12 at halftime.
Junior Haylen Janesofsky scored six touchdowns, while Brant Barnes scored twice. Janesofsky, Barnes and Kirk Fairchild each returned an interception for a touchdown.
Quarterback Daniel Domes threw for 228 yards and three touchdowns. Bailey and Barnes combined for 228 yards on the ground as they filled in for Keenan Bailey, who suffered a minor ankle injury in the first quarter. Barnes and Alex Hawes had 12 and 8 tackles, respectively, to lead the team on defense.
"The offensive line of Fairchild, Jacob Pope, Hunter Sagmoen and Spencer Bibler again did a great job opening holes and protecting the passer," Perrydale coach Chris Gubrud said. "Overall we played well but still need to do a better job tackling in space and preventing the big play."
Perrydale hosts Sherman on Oct. 23 at 7 p.m.
VOLLEYBALL WINS THREE OF FOUR: Perrydale's volleyball team won three of four matches last week. The Pirates defeated Crosshill Christian 25-22, 25-23, 19-25, 19-25, 15-12 on Oct. 6 and Falls City 25-16, 25-6, 25-13 on Thursday. Perrydale lost to North Douglas 25-14, 25-20, 22-25, 25-17 before defeating Damascus Christian 25-11, 25-16, 25-11 on Friday. The Pirates played Country Christian Tuesday after press time. Perrydale closes out its regular season at Jewell on Thursday before hosting C.S. Lewis Tuesday at 5:30 p.m. The Pirates entered the week with a 10-1 record in Casco League play. The top three teams in the league qualify for the 24 team bracket.