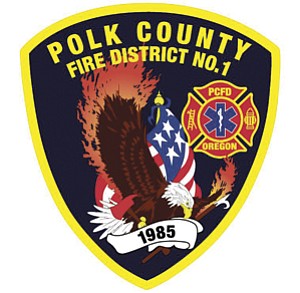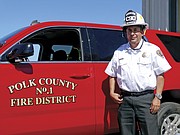 INDEPENDENCE — Fire Chief Al Alcalde is working to make Polk County Fire District No. 1's firefighters and volunteers safer through training and practice.
Alcalde said the door of one of the district's trucks was bent while it was being backed out of the garage because the door was left open.
"The thought process is, if (the door is) open, you can get into it quicker," he said to the fire board of directors at its Thursday meeting.
However, with so many staff members and volunteers, the person who drives the truck into the garage isn't always the one who backs it out to respond to an incident.
The person backing out may not know to look for an open door, Alcalde noted.
With training and process, accidents such as the bent door can be prevented, he said.
Additionally, Alcalde presented a new code of ethics.
"It's a national program that's been going on for a couple of years," Alcalde said. "Fire departments are pledging to read the code of ethics and sign that they are going to maintain the code."
Alcalde said it is important for firefighters and volunteers to keep a high ethical standard in public.
"By doing this, it's a reminder to us that we're here for the public," he said.
Board member Joost Vanderhave asked Alcalde if the code should also apply to board members.
"I would encourage each of us to think about what Joost is saying and consider signing it," board chairman Tom Snair agreed.
Board member Joe Franko said board members need to be "above reproach out in the public."
In other business, the board decided to let Alcalde handle an agreement for service from Albany Fire Department.
Heard updates on the estimates to have the parking lot at Station 90 repaved, ranging from $9,700 to $15,000, depending on the area and thickness of the asphalt.
Approved purchasing equipment for the new fire engines that will be arriving soon. The purchase will likely cost $60,000 or less.
­­